The moment when everything clicks and I trust my body to take over, the boundary between what I can and cannot do becomes blurred.
During fall and spring breaks from Columbia University, I went to the Red River Gorge to work on a route "Thanatopsis." This climb is located at the "Motherlode," which, as you probably know, contains the highest concentration of steep, hard climbs at the Red.
I have been going to the Red since I was nine years old, and I distinctly remember my first day at this crag. When I first hiked up through the forest path to the area I knew that I had never seen anything quite so steep, nor quite so tall before. There are virtually no easy climbs at the Motherlode—the area is dense, with climbs fit for elite climbers to work on. The climbs on the far right side and far left side of the cliff are less steep than the ones in the dead center of the cave. I tiptoed around the inner perimeter of the cave, acclimating to the steep climbing terrain and genuinely intimidated by how the climbs were almost horizontal.
Each year I have gone to the Red at some point. Fall is the season when the temperatures are best due to the crisp, forty- to sixty-degree temperatures and moderate rain. Spring is a good season to go as well, but there can be more humidity in the air and splitter days are generally more rare. During the winter months it is usually too cold to climb there unless you have really great circulation, unlike me. And forget about the summer months for sending anything hard unless you're a good swimmer or don't sweat.
My first trip to the Red River Gorge was in June. When you're a 9-year-old climber, as I was then, you usually have no clue what "good conditions" are, and you don't care. You're just young and psyched, and back then there were just so many potential lines to try that less-than-perfect temperatures did not bother me in the least.
Each year I have visited the Motherlode. In a way, it's where I grew up as a climber. When I hike up to the Motherlode I can relate a distinctive memory to each of the climbs. The lines resemble different periods of my progression. The first time I ever went to the Red was a Memorial Day weekend. I drove there from Virginia with my mom and my dad in a 40-foot RV that my dad had acquired, despite it being the very manifestation of my mom's worst nightmare.
After dealing with a fiasco involving the RV being stuck in the Nada Tunnel, my parents dropped me off at Miguel's and I went to the Motherlode with Dario Ventura, Grady Bagwell, and Ana Hayes. That day, onsighting "Tuna Town" was my first little trophy. At the Motherlode I also onsighted my first 5.13. Years later, it is where I also onsighted my first 5.14: Omaha Beach.
These achievements, separated by years, feel like close, interrelated moments. Now, when I hike in to the Motherlode, the cliff doesn't look as big as it once did, yet I feel a strong sense of nostalgia for those earlier days. With each climb that I've done there, I always recall a distinct, positive memory. The struggles that I may have had, the frustration from falling, and the joy of reaching the top. Somehow, each send contains those three elements, yet each time, it's a totally unique experience.
In the Spring of 2014 I set my sights on Thanatopsis (5.14b), first climbed by Dave Hume in 1996, when I was 4 years old.
This climb had a reputation that frightened me—and I hadn't even tried it! I had never seen anyone on it, and without any chalk, it just looks like a steep, blank rock face devoid of any perceptible handholds. It seemed as though it would be easier to climb a sheet of glass. Instead of checking out the moves, each trip I chose a different climb to try to complete. Finally in March, I decided that I needed to just put on my climbing gear and try it.
After graduating from high school in 2011 I chose to defer my acceptance to Columbia University and to focus on professional climbing. During the span of fourteen months in between graduation and returning to school I lived and breathed climbing. I traveled to 28 different countries competing in World Cups and climbing outside.  During this phase of my career I felt a significant progression in my ability as a climber. When there is nothing else on your plate but climbing, surprise, surprise, your climbing will almost certainly improve!
This was a motivating experience for me – approaching peaks in my climbing level and having the time and energy to dedicate to what I consider my greatest passion. Though, towards the end of this year I knew that school was pending. I did entertain the idea of continuing to just climb and to defer school longer. Though, academics have always been a significant part of my upbringing. While I recognize that college is certainly not for everyone, my heart was set on continuing my education.
While I have a professional career and was making a living from climbing already before returning to school I have never wanted to be limited.  To me, not building my foundation of knowledge beyond traveling and climbing was limiting myself from a unique opportunity that I had worked hard growing up to achieve: going to an Ivy League University and learning about other facets of the world beyond what I was familiar with.
Now, outdoor climbing trips are limited by a rigorous school schedule. Shifting back into academic gears while maintaining my career as a professional climber was not easy for me. Admittedly, my inability to go on climbing trips whenever I wanted to is something that just about every person except for professional climbers may have to deal with, though, nonetheless the transition was a wake up call for me.
Columbia's academics are rigorous and time consuming and so climbing trips take the backseat during the school year. Except for during school breaks – that's when I make up for being locked down in the city during the semester. So for Spring Break 2014, I chose to return to the Red River Gorge.
Though I just had one week at the Red and, it being March, the weather was inconsistent. While I managed to have some days with good weather, I consistently fell on Thanatopsis. I felt like I had found my beta (solution) to the different moves, but I could not piece them together from the bottom to the top without falling. Climbing and failure happen to go together quite seamlessly: I fall way more often than I succeed. This trip, I had to leave without having succeeded.
Now, fast forward to Fall Semester 2014 … Having Thursday through the following Tuesday off from school, I chose to spend this time trying Thanatopsis again. I drove from New York with my mom to Kentucky. Growing up, my mom was always my number-one belayer. She likes to refer to herself as "mombelay." Truly, without her dedication to belaying me during climbing practice and driving me anywhere that I needed to go, I do not think that I would have become a professional climber.
While driving to Kentucky, I was a little pessimistic about the weather forecast because a cold front was coming through and there was an 80% rain prediction for Friday and Saturday. According to my weather app, Friday was really cold and raining. However, with my mom being an optimistic trooper, we still hiked up to the Motherlode with our down jackets and hats on, through the mud, and to the cave.
Due to the rock's steep angle over the ground, the climbs were actually protected from the pouring sky. I warmed up and then went straight on to Thanatopsis to refresh the moves in my mind.
At first, the climbing felt unfamiliar and strenuous on my tendons. The holds were all so much smaller than I remembered and I couldn't recall on which little pebbles I had placed my feet in order to be in the right body positioning to do each individual move. Thanatopsis is challenging because the "holds" for your finger tips and feet are barely bigger than the protrusion of two credit cards against a flat wall. For some of the harder moves, only with precise body positioning could I stay on the wall. Having to do powerful sections on the climb consecutively wears me down and my precision for the latter moves lessens. As I worked out the sections of the climb, though, I started reconnecting with the movement.
I tried the route again and again afterwards, falling at different points on the wall, and lowering down to the ground to rest and recuperate my muscles and tendons to try again.
By the end of the day, I was substantially more tired but convincingly more determined. I did some jumping jacks to warm up from the near freezing temperature and put back on my harness, chalk bag, and shoes, tied in to my rope, and, feeling quite secure with a trusty MomBelay, I started the climb.
I feel the connection with the natural elements. I feel the texture of the rock. The rock face is my opponent, yet I am working with it at the same time.  I am just moving. I am just moving through the sequences and visualizing myself succeeding. My mind is free from everything else. My thoughts are in a zone of their own. This zone is full of thought yet simultaneously blank. My motions execute the thoughts that I have. I think about the piece of rock that I am on, I fixate on the feel of it underneath my chalked hands.
Soon, all the struggles I have felt are beneath me. The frustration from falling is in the past. And now, there is only joy at the top of the route.
The post The Day I Sent Thanatopsis appeared first on Evening Sends.
Read more http://eveningsends.com/the-day-i-sent-thanatopsis/
Wow, the Arc'teryx Squamish Mountain Festival starts tomorrow. After looking forward to it for so long, it sure seemed to come up fast. I drove into town this morning, the sun was shinning, the wind was blowing and people were smiling…oh yeah, summer is here. And the weather ahead looks fantastic, they are calling for slightly cooler temps, mostly sunny before heating up for the weekend.
I climbed some at Smoke Bluffs Park over at Tunnel Rock – that's a nice crag btw – stayed in the shade and some nice long routes. Also we climbed down in High Cliff area – another quiet, shady spot.
Saw some kids and their leaders from Bold Mountaineering, a YMCA type program up from Seattle. They were  having fun at Burgers and Fries crag.
The crags were pretty busy and everybody it seemed had the new Bourdon Squamish Select Guide out. It's kind of funny walking around the Chief Campground you see people with their heads buried in the new guide or knots of climbers gathering around a copy of the guidebook open on the table, talking about this or that route they've done or are gonna try.
Yeah that new guide is a hot seller. Dan over at Climb On was telling me he usually sells about 15 guidebooks in June but this year he sold 80 and nearly all them were the new guide book. I've been pouring over my copy since I got it last week and I'll have to post a more detailed review. From what I've seen Marc nailed it with this one. The book is nicely laid out and colour-coded, and it's very easy to find climbs and approach trails. The colour photography is excellent and make navigating easy.
The Chief Campground is packed, I noticed plates from New York, Arizona, Oregon, Washington, California,  Alberta and of course Quebec — Salut toute le monde.  All these folks are here for the climbing of course but I hope they know there's a festival going on. They could partake in some traditional Squamish hospitality. It's great to walk around and see all the happy, smiling people. The guitars our out and I can hear some laughing and joking.
So head on up here if you can. Tomorrow looks like a great launch.- with Squamish Rocks! This where six people will have six minutes to present a rapid-fire  slide show claiming bragging rights  about why Squamish is the best place to climb and live. There's a bit of irony here, because one of the presenters is Jeremy Frimmer, who's made a big impact on Squamish climbing by developing some of the newest, classic lines in Squamish such as Skywalker, Milk Road, and others, But the guy is leaving for Winnipeg at the end of the summer.  Too Bad, so sad that you had leave in the first place Jeremy, I'm sure you'll be back.
I'm going to hit the sack. Tomorrow will be  big day. – Happy and Safe climbing — Dave
Read more http://squamishclimbing.com/2012/07/10/the-day-before-day-1-at-the-smf-2012/
My friend Bobby and I have a thing with rest days on climbing trips, in that our "rest" days tend to be more active than our climbing days. Generally it goes something like this: We are taking Wednesday off, what's the coolest/biggest/most outrageous adventure we can go on that day? One time it was scrambling around for miles on the granite domes of Sweetwater Rocks outside Lander. We drove down a road, looked at something that seemed feasible, and struck out. No trail, not much of an idea of what to expect, but plenty of stoke and an open mind.
Another time it was hiking several miles up a side canyon in Indian Creek. We found a magical forest of huge trees and possibly the Well of Life, but we couldn't get through all the bramble bushes to confirm. We also found a beautiful unclimbed splitter that is probably in the 12/13 range. And in a place that gets hammered with visitors, we found a lot of solitude in a canyon not many others had been.
Most recently, we went for a big romp up a sandstone mountain in Snow Canyon State Park, in Saint George. "What's the plan for today?" "Let's just drive in and look for the coolest-looking thing to summit." And we found what we called the Lonely Mountain, a big white sandstone formation that we scrambled 1500' to the top of, with amazing views all around.
Sometimes I enjoy taking rest days that are actually restful, but my best memories are from these days when we went out looking for adventure, which was surprisingly easy to find, and leave me eagerly wondering what the next "rest" day will bring.
Read more http://www.splitterchoss.com/2016/05/03/the-best-days-are-rest-days/
Tenaya shoes are known first and foremost for comfort, and the Iati is an excellent all-arounder that's comfortable and sensitive on a wide variety of terrain.
The downturn is adequate, though certainly not aggressive, which means it will work as well on vertical terrain as it will on the steep stuff. Unlike the Tarifa, the power is focused under your big toe, not off to the side, which meant I always felt like I was hitting every foothold in the sweet spot. The added rubber on the top of the front of the shoe made for more secure toe hooking.
As I've come to expect from this brand, they were comfortable from day one, with no noticeable break-in period needed. The 3.5mm XS Grip offers excellent sensitivity, though the little logo stamps Vibram puts on the rubber are absurd. On the pair I got, one of the stamps was right under the toe, which meant I instantly had a millimeter or so less rubber to work with.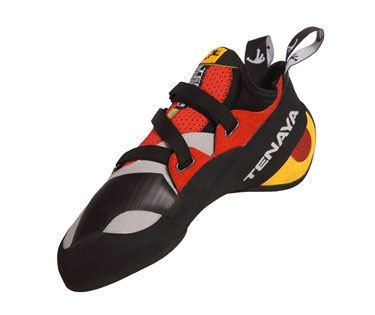 I don't love the Draxtor strap system, as it seems overly complicated, and makes putting the shoe on a little more involved than it needs to be. I imagine they did this so it can accommodate a wider range of feet, but I've never had a problem with the simple strap designs found on other slippers. (Maybe folks with wider feet feel differently?)
Those minor gripes aside, after several months of use I can honestly say the Iati hits the sweet spot of offering the right amount of sensitivity and precision for most of my sport climbing needs. Given how comfortable they are, they often have a place in my pack, and in fact I just got them resoled so I can keep using them.
Fit: These things run big, like huge! I am 12 street shoe and got mine in a 10, which is very comfortable. It wouldn't be crazy for me to wear these in a 9.5 for even more precision. I do have a narrow foot, so take that into consideration.
Retail: $170
Sole: XS Grip 3.5mm
Upper: Natural & Synthetic Leather
Ideal use: Sport climbing
More info and tech specs on the Trango website.
Disclaimer: Wait! Before you go handing over your credit card number, ask yourself, do you really need to buy more new stuff? If so, this product is worth a look. In the spirit of full disclosure, it was provided to SplitterChoss.com for the purpose of reviewing. Don't worry, though, our integrity can't be bought!
Read more http://www.splitterchoss.com/2016/06/07/tenaya-iati-review/
I've been doing more climbing than blogging and tweeting for the first two days of the Squamish Mountain Festival. The weather here is fantastic.  I've had some great days out climbing a bit more of that later. First, it's time to recap some of the great films, and presenters the last couple of nights.
Day One: Squamish Rocks!
This was locals night and a couple of films shot in Squamish provided a great segue into some great slide shows and presentations by Squamish residents.
The highlight for me was hearing Glenn Woodsworth talking about the early days of climbing in Squamish. We're talking the early and mid 1960s.  Glenn had some great photos I had never seen before of people like Hamie, Lief Patterson, Tim Auger and others.  He also introduced the film University Wall, about the first ascent of the climb, it included some great footage of UBC students scaling campus buildings in the sixties.
Local climber Kinley Altken had some fantastic landcape shots of the Chief from the water in her presentation. The granite dome looked golden in the evening light bouncing off the water.
Perry Beckam and Brad Zdanivsky were also on the program but didn't make an appearence, too bad. Jeremy Frimmer however was there and the audience got more of the back story about motivations and rewards that drove Jeremy to develop some great moderates climbs. Although he's moving to Winnipeg he has left behind a legacy and challenge for others to contribute their own climbs for the climbing public.
Day Two: Dean Potter makes a surprise appearance
He wasn't on the program but his timing was bang on when he drove into town Thursday afternoon. That evening the National Geographic Film, The Man Who Can Fly which is about his winged-suit flight from the top of Mt Bute in BC was the feature film. Squamish locals and filmmakers Christian Begin and Bryan Smith with camera, producing and rigging help from Jim Marinello, Matt Maddaloni and Damie Kelly made this stunning and emotive film. The discussion and audience Q&A afterwords was equally engaging. I wish I was not so tired now to remember some of the finer points made but it was very interesting to hear Dean's philosophy and spiritual motivations behind what he does. Dean's dog Whisper was there, the dog seems to be Dean's constant and perhaps closest companion. He was even featured in the film. I think it was telling about how Dean values life and his care for others when in the film, Whisper the dog is wearing a life jacket for the sailing portion up Bute Inlet. Here is a guy who in the film slack-lined, ropeless across the South Gully and free-soloed a section of El Cap, but puts a life jacket on a dog.
That's about all for now. Here are some photos over the last couple of days.
Read more http://squamishclimbing.com/2012/07/13/smf-day-one-and-two-blog-post/