The 7th Annual Squamish Mountain Festival went out with a bang. Thunder and lightening rolled in this morning. But the real thunder was the applause that erupted later this afternoon when Elise Sethna of Banff, Alberta, set a new women's world record dyno jump with a leap of 2.20m! Check it out here: New world record dyno jump.  The sun came out to shine on the competitors at the The Flashed Dyno Comp. There was a huge field of men (over 20) , which ensured it would be a fierce battle to claim the top spot. Local boy Marc Andre-Lerclerc took it, being the only competitor to dyno without a fall until the very last round.
The crowd loved it all and cheered on the competitors who came from as far away as Boston, Texas and Mexico. Look below for some photos I took at the Dyno Comp.
I wandered around the trade fair today talking to some of the manufacturers and suppliers. I spent some time at the Black Diamond tent. They have got some impressive innovations in the pipe. Eddie Whittemore the Black Diamond rep showed me the Magnetron belay carabiners. These are the ones with a magnet that clicks and releases a locking feature on the gate.  Some people seem skeptical of these, but having held one and opening and closing it a bunch of times I think this will be a solid piece of gear. There was no easy way I could see of the thing opening on its own. You need to place two fingers on either side of the gate to release the magnet.  I don't know about you but there have been times when I've forgotten to screw the gate closed on my HMS biner, so an simple auto-lock seems likes a nice idea. Eddie says these are going to be in the stores in September.
Perhaps even cooler than that were new Camelot X4′s. These are double axles in the bigger sizes, single axles and off-set in the smaller sizes. The cams feature  narrow head width, with a flexible aluminium protection stem, (single) and centred thumb piece. Eddie says these are due out next March. Here's a photo of one Eddie had at the table.
It's been a great five days at the festival. I met a lot of super great people, reconnected with folks I met ages ago and talked to a few Squamishclimbing.com users. I heard some great feedback about site from a lot of people and I look forward to bringing in the changes when I can. If you have any more thoughts drop me a line.
I'd like to thank Laura Ferguson and her crew at Arc'teryx  for putting on a great festival. As well a big thanks to Ivan Hughes of Fringe Filmworks who produced the event and all the volunteers and sponsors for a working hard to pull off a quality program.  Until next year – happy, safe climbing everyone.
Some photos from Dyno Comp
Read more http://squamishclimbing.com/2012/07/15/smf-2012-day-5-its-a-wrap/
Hey All,  I sincerely hope you'll consider joining me for some great short movies and a few pictures about my most recent traveling and climbing exploits.  I'll be talking about the importance of respecting our crags, optimism, partnerships, as well as highlighting climbing trips to Germany, Tasmania, and my new summer project here in the Canadian Rocky Mountains.  Afterwards there's a Q&A, which I really enjoy, and there's always a few prizes, drinks and snacks.  Everyone Welcome.  Expect a healthy dose of German teasing:)  Hope to see you there…
Victoria, BC – Patagonia Store – June 06 – 7:00pm
Vancouver, BC – Patagonia Store – June 07 – 7:00pm
Whistler, BC – Patagonia Store – June 08 – 7:00pm
Calgary, AB – The CCC, Hanger Location – June 11 – 8:00pm
Halifax, NS – Patagonia Store – June 13th – 7:00pm
Toronto, ON – Patagonia Store – June 14th – 7:00pm
Montreal, QC – McGill University – June 15th – 7:00pm
Banff, AB – Patagonia Store – June 23rd – 7:00pm
PHOTO BY CAMERON MAIER www.bearcammedia.com
Read more http://sonnietrotter.com/2016/05/31/slide-show-tour/
Starting your season in Indian Creek can be a daunting proposition. I love the climbing there, but the physical and punishing nature of it can be a lot to swallow when you haven't climbed on real rock in a couple months. Still, we had some good friends we wanted to see, so off we went. And I got crushed. Like sore-for-three-days-after crushed. But it was a great time, with no expectations and lots of laughs throughout the weekend.
And even though I felt like I got worked, I realized looking back that I had tried climbing at a similar level to what I would have done in the fall, at the end of the season, when I was feeling fit. This explained why I was so wrecked afterwards, trying to go from zero to sixty without much of a warm up. But it was also really empowering in another sense, in that I could pick up where I left off. Yeah, I didn't style things like I would have in November, but I got on them all the same, and by the end of the day on Sunday, it was starting to come back, even as the fatigue in my muscles neared I-can't-hang-off-a-perfect-hand-jam status.
A couple years ago I took a trip to Red Rocks where the first day of the trip we did 2000' of climbing, and it made me realize that when you set the bar high, you can only go up from there. This past weekend was no different, and it kick-started the season into high gear, getting me super stoked for what's to come. Here we go!
Read more http://www.splitterchoss.com/2016/03/14/setting-the-bar-high/
Grade debates are inherently pointless.
Arguments about whether something is 5.12d or 5.13a (or whatever) are as unproductive as debating what a specific color looks like. Yes, while each and every color contains an empirical, measurable reality, which is its wavelength, precisely how that wavelength is "seen" by your brain may be different from one brain to the next, especially depending on the number of hallucinogenic substances that you have ingested that day.
Perceptions of climbing difficulty are just as personal—hence, this phrase, often shouted at the end of the rope, or face-down on a crashpad:
"That move is HARD FOR ME!"
Yes, while each rock climb can be broken down into empirical measurements such as hold size, distance between each hold, and length of the route—the difficulty in moving between those points of rock is a completely subjective reality.
There's no such thing as an objectively difficult rock climb. Rock climbs can only be difficult for you, and even that will change from day to day or year to year depending on your current waist size and shoulder mobility, to name two of the many variables that have conspired against my own climbing progression lately. Even your mood—that is to say, your motivation to climb—affects perceptions of difficulty. If you're not psyched on climbing, better to go do something else because even the warm-up will feel like a project.
Still, there are moments in climbing when, perhaps, grades do matter. On a personal level, it's fun to track our own progression up the YDS ladder. Reaching that next rung is immensely rewarding. The greatest feeling in the world.
Ironically, though, it's also often true that as soon as we tick that hard climb, we're also the first ones to recognize that that crazy thing that just happened to us, that once-in-awhile thing called sending a project, actually had nothing to do with just a number. It was about having an experience, perhaps a life-changing one.
Grades matter … and simultaneously they really don't.
But what about when we talk about the grades at the very top of the scales—and the handful of elite climbers who are either pushing those grades, or repeating those grades to confirm their difficulties? Here, it seems, grades matter a bit more, if only because these ascents are what help our whole sport progress forward.
Top climbers also often rely on ratings to get the media attention that gets them the sponsorships deals that allows them to make livings. And today, that's no longer just a matter of getting free shoes and a Friction Labs ambassadorship. We're talking real money, baby.
When someone achieves a grade in climbing that gives that person the distinction of being the first—whether that's the first ever, first female, first male, first Jamaican, youngest, oldest, whatever—that naturally bolsters the ascent's significance, and elevates that climber's prestige.
But one thing I've been wondering lately is, who is actually keeping track of these records? And what happens when the records retroactively change when a route is revealed to be either harder or easier than it was once thought?
The answer to the first question is actually easy: No one. No one is officially keeping track of the record. There is no Elizabeth Hawley of sport climbing and bouldering ( though perhaps Jens at 8a.nu is trying to be that guy). Who has done what, and What That Means, comprises a rather loose and fluid history. It begins with one climber's subjective, potentially specious opinion about a rating, and is then crafted (increasingly) through press releases written by PR people who may or may not even be climbers themselves, then disseminated (and, perhaps, validated) by the unpaid interns working at climbing magazines and websites whose sole jobs are simply to get as many news stories online per day as possible because none of the actual editors can be bothered with that kind of savage workload.
The answer to the second question, however, is much more complicated, and worth a two-minute conversation, I hope. It's a question that's been on my mind recently after I broke the news for National Geographic's audience that Ashima Shiraishi just became the first female to climb V15. This groundbreaking story came about a year after last year's groundbreaking news, that Ashima had sent Open Your Mind Direct, which Ashima claimed as 5.15a, which would also make her the first female to climb that grade.
There's no question that Ashima sent Open Your Mind Direct last year in just a handful of extremely impressive tries while on spring break, and there's no question that she quickly managed to take down Horizon last week, which Dai Koyamada described as the hardest boulder problem he's ever done and originally rated V16 before demurring to V15+. There's also no question that no matter what either this sport climb and this boulder problem are rated, Ashima's achievements are nothing short of extraordinary climbing performances for the history books.
The question, though, is whether Ashima was actually the first female to achieve these grades, and whether they are as hard as they've been reported (by writers such as me, which is of course an irony that is not lost on your boy).
Who's keeping track of this shit, and does it even matter?
Josune Bereziartu, for one, might think it does matter. This Basque climber, who retired from the sport due to shoulder injuries, was an absolute monster on the rock when she was in her prime in the late 1990s to mid-2000s. She is recognized as the first woman to climb 5.14b, 5.14c, 5.14d, and, arguably, 5.15a. I've also gotten messages that she also climbed a V15, too.
Josune climbed her first 5.14d, Bain de Sang, in 2002. Also that year, she climbed a boulder problem in the Baltzola cave called La Travesia de Arriota, which is given a "traverse rating," whatever that means, of 8c, or V15.
In 2005, she climbed another 5.14d: Logical Progression, in Japan. Then she climbed Bimbaluna, in Switzerland (next to Bain de Sang), which is given the nebulous slash rating of 5.14d/15a (9a/9a+).
Ashima's 5.15a, Open Your Mind Direct, was also at the time given the same 9a/9a+ slashy grade. However, due to a recently broken hold, some climbers in Santa Linya had been speculating that OYMD had graduated to a full-fledged five-fifteen-fuckin'-a-right. Which, of course, is where Ashima got the idea that OYMD is, in fact, 5.15a.
Writing to me last year just after Ashima's ascent, Ex-pat Brit-turned-Santa-Linya-uber-local Tom Bolger answered my question and clarified the grade confusion with OYMD:
"Yeah, Open Your Mind Direct is a funny one as the broken hold element has left the route without the long-move, good-hold-to-good-hold sequence, but it has left the more crimpy shorter-move sequence that people had previously used. So it's very debatable whether the top is significantly harder, as some people preferred that crimpy, shorter-move sequence anyway. You know how it is, different styles and heights, people find what suits them. Interestingly the upper section, when Dani Andrada first did it, was way harder but another hold broke to leave a better hold behind.
Amazing effort from Ashima, truly incredible!!! If she is capable of doing hard 9a that quick, I'm sure she will go on to climb 9a+ with no problems! Personally, I thought Open Your Mind Direct was and is a hard 9a, but it is definitely easier than the other 9a+ routes that I have tried!"
Also, Daniel Woods recently climbed Open Your Mind Direct quickly, and confirmed that in his subjective opinion, the route is "only" 9a.
So, perhaps Ashima hasn't climbed a true 9a+ … yet, because clearly she is more than capable of doing so. But perhaps she is the first American woman to climb 9a … which brings up another point about whether the record books should get changed, or not, when routes are downgraded.
Currently, Sasha Digiulian's Wikipedia page lists her as the first North American woman to climb 9a, a distinction she earned when she climbed Jonathan Siegrist's Pure Imagination in the Red River Gorge in 2011. Then, in 2012, she nabbed the first female ascent of Era Vella, a Chris Sharma 9a at Margalef.
Downgrades for both of those routes, however, have since been suggested by a number of folks. Pure Imagination has been onsighted twice. Most recently, it was redpointed by America's awesome new sport-climbing champ, Margo Hayes, and Michaela Kirsch, both of whom took 8c+.
Era Vella was cast into the spotlight of online grade debates when J-Star climbed it third try, then wrote that there was no crux harder than V7, and stated that he can think number of 8c routes that are much harder than Era Vella.
Changing grades that change the record books don't always work when something is downgraded. In 2008, Adam Ondra climbed the second ascent of Open Air at Schleier Wasserfall, Austria, more than a decade after Alex Huber's first ascent. Back in 1995, Huber proposed 9a for Open Air, making it one of the earliest routes of that grade. Ondra, however, with nothing to prove, gave some serious props to the younger half of the Huberbaum by saying that Open Air was a full-fledged 9a+.
Unless Ondra is wrong about the grade—maybe he was having a "fat day"—this would retroactively make Alex Huber the first person in the world to climb 5.15—not this guy.
The other interesting point about Open Air that's worth mentioning is that the route reportedly contains some rather flaky holds that have broken off over the years. So was the Open Air that Ondra climbed the exact same route that Alex Huber climbed? Maybe, but probably not.
I have to admit, there's a part of me that's nostalgic for that year, 2001, when Sharma climbed Realization and the whole climbing world stopped, put down the joint, turned down the dub reggae music, and went, "Whoa." Would Sharma's ascent have been as big of deal had Huber thrown down the 9a+ rating six years earlier? Maybe, maybe not. The climbing fan-boy in me doesn't necessarily want to see those good memories retroactively taken away, but the climbing journalist part of me wonders how to write and re-write history, or whether any of this matters. Based on the number of annoying and irate letters I've gotten over the years clarifying something I've written—which go something like, "Megos was the first to onsight 9a, not Ondra, you fucking dumb idiot!" only usually much less nice—other people care about getting the record straight, too.
By the way, Megos is currently credited with the first 9a onsight for Estado Critico. However, after a broken hold began forcing people to climb up and around the original sequence, many climbers began to regard this new variation as 8c+, something Megos didn't know necessarily when he walked up to the base, then walked up the climb. It's possible, in fact, that Ondra was actually the first to onsight a real 9a, with Il Domani.
Ironically, there was a time when Chris Sharma never rated his routes. The Mandala, Realization, and many other climbs were simply left un-rated. Perhaps it's an approach that's worth revisiting as we on the sidelines continue to juggle other climbers' grades around like hot potatoes. After all, a route can only be hard … for you. And for most of us, all of these routes are.
The post Setting and Revising the Record in Climbing appeared first on Evening Sends.
Read more http://eveningsends.com/setting-and-revising-the-record-in-climbing/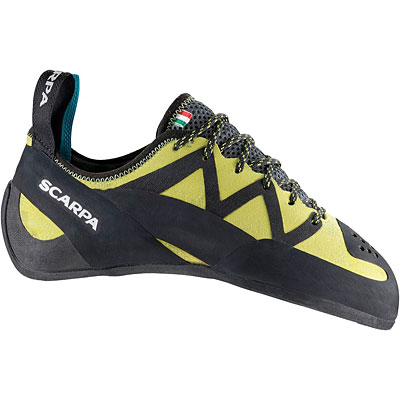 As anyone knows who visits this site regularly, I'm generally not a fan of stiff shoes. I like to be able to feel what I'm standing on, which means more to me than any added support from a stiffer shoe. So it was with some skepticism that I decided to check out the redesigned Scarpa Vapor, which was touted as being one of the stiffer shoes in their line up. What I found surprised me, as this is the best trad climbing shoe I've worn in a long time.
On a trip to Indian Creek this spring, the shoes were sitting at the bottom of my pack for the first couple of pitches. I hadn't jammed splitters in a while, and my feet were killing me, so I decided to see how these would feel. To my delight and amazement, they were incredible. The toe is low profile enough to jam into thin cracks, and the construction makes it very comfortable, even when torquing in the usually exquisitely-toe-crunching ringlock/thin hands size. I was sold, and happily wore them the rest of the trip, leaving my usual Creek shoes feeling a little neglected.
On the techy, European-like limestone of Lime Kiln Canyon, I could smear with confidence, which made my fantasy of being on the cover of the Petzl catalog feel all the more real. Anyone who's climbed there knows it's all about the footwork, and the shoes were more than up to the task. My last venue for testing them out was on the featured granite of Lover's Leap. Some of the cruxes there involving smearing your feet up on blank granite while reaching high to the next incut dike, and while they were adequate, this was the one area that I wished they were more sensitive, and found a softer shoe more to my liking. (I'm also smearing-impaired, so take that for what it's worth.)
As expected with the stiffer midsole and XS Edge rubber, they are very supportive on small holds, but I found them to be more sensitive than similar shoes like the Katana Lace, and much more pliable than the stiffer-than-steel Five Ten Verdon's. They're comfortable enough to leave on for several pitches at a time, thanks to the single piece synthetic upper, which uses minimal stitching to help eliminate hot spots.
After using these shoes extensively the last couple of months, my only criticism is that I've worn through the rubber pretty quickly, which was a bit surprising for the usually quite durable XS Edge. It's possible that because it's only 3.5mm, instead of the typical 4mm found on most edging shoes, there wasn't as much to begin with. Or maybe I just climbed a lot.
Regardless, I'll certainly be resoling them, and I love knowing that I have a go-to trad shoe for years to come. Anyone interested in a comfortable all-around shoe for trad climbing and technical sport routes should give these a look.
Fit: I typically wear a 45 in Scarpa's and that's what I wear in these (street shoe is a 12). Another friend with wider feet said his felt small at first, but my narrow feet didn't notice that.
Retail: $159
Sole: 3.5mm Vibram XS Edge
Upper: Suede & Microsuede
Ideal use: Trad climbing, techy sport routes
Sizes: 36-45
Disclaimer: Wait! Before you go handing over your credit card number, ask yourself, do you really need to buy more new stuff? If so, this product is worth a look. In the spirit of full disclosure, it was provided to SplitterChoss.com for the purpose of reviewing. Don't worry, though, our integrity can't be bought!
Read more http://www.splitterchoss.com/2016/06/27/scarpa-vapor-review-2/
SMF Day 5
The Squamish Mountain Festival ended with a Flash flood, err scratch that the rain came later, what I meant to say was it ended with a Flashed Dyno Comp at Pavillion Park.  I wasn't there, but I know it was a crowd pleaser because I could hear them cheering from where I was climbing in Smoke Bluffs. If anybody knows who was crowned the 2011 Dyno Champ please post up on the forum.
Then the retailers and sponsors folded up their tents — thank you guys for all the loot you gave away and making this event possible.  It's also great all the volunteers were thanked and fed with a volunteer bbq ath the Howe Sound Brew Pub. They also made this event a huge success.
After that it was time to say goodbye to people we met at the festival and to people we reconnected since last time.  That has to be one of the best things about this festival, the friendships made, the stories swapped and the laughs shared. Call it what you will, a community, tribe or sister and brotherhood, but climbers the world over share a unique connection. It's at events like this that show us climbers why only other climbers can really understand why we have to and love to climb.
I'll add some photos to this post soon, in the meantime check back the Squamish Mountain Festival page, they have some highlights and recap of the festival.
Thanks everyone for a great festival see you again next year.
Trade Fair and Demo Gear tents


The Dyno Wall


Jeremy Smith, VP of Squamish Access Society Board

Read more http://squamishclimbing.com/2011/07/17/smf-day-5-its-a-wrap/
So all this wet weather has started to creep into the psyche and commentary of the Squamish Mountain Festival. Ed Cooper in his excellent presentation showed some slides of Squamish climbing under beautiful blue skies and says he doesn't know what people are saying that the weather in Squamish is terrible. Thanks Ed, it was good to have a reminder that the sun can shine in Squamish even though those photos were taken 50 years ago.
Well, there is good news on weather front for Sunday, the rain is supposed to diminish to the chance of a shower and the sun may even make an appearance!
As I said, Ed did a great presentation, showing some slides of his and Jim Baldwin's first ascent in 1961. He's also made a great contribution to retaining a bit of the history of Squamish climbing by painstakingly restoring some of his old slides. He says some of them had turned magneta, had mold growing on them and had lots of scratches, but with Photoshop he turned them back almost to their original condition. — Thanks Ed for your efforts.


Ed Cooper
Ed recounted some of the stories of making the first ascent of the Grand Wall. He remembers the huge media story it was back then and how a reporter miss-quoted him by writing he and Jim sucked moths to quench their thirst instead of sucking the water out of moss.
There was also a little nod to the contribution this first ascent made and climbing in general does for the city. Squamish councillor and former mayor, Corrine Lonsdale says the climbing community has done a lot to put Squamish on the map and she thanked the efforts of the FMBC for saving Smoke Bluffs. Lonsdale, who grew up in Squamish remembers when Ed and Jim were climbing the Chief and how everybody wanted to watch to see if they would fall.
And in Ed's recounting, there are a couple of times that easily could have happened such as the time his rope came untied while leading the Split Pillar.
At the end of the presentation, Anders Ourom, a long-time climber who is writing a coffee table book on the history of Squamish Climbing got up to recognize Ed and Jim's contribution as well as the place several other climbers have in the development of climbing in Squamish.
Here is a photo of some Squamish Climbing pioneers from left to right, Richard Strachan (FA Snake and Clean Corner, 1962), Ed Cooper FA, Grand Wall, 1961, Dick Culbertson, FA North Gully 1958 and guidebook author of Coast Ranges and Glenn Woodsworth, FA of University Wall 1966 and first guidebook of Squamish climbing 1967.


The next presentation after Ed was a complete change of pace as Tim Emmett took us through some of his exploits from hard sport climbing, DWS and base jumping. There's a good story of how Tim met then married a local Squamish girl by actually falling out of the sky from a base jump and virtually landing on her at a beach in Thailand.


Tim Emmett at SMF
Some of us still had some energy at the end of this to rock and dance at the Robot Disco party. Props to the climbers who got it together and dressed the part.

Read more http://squamishclimbing.com/2011/07/17/smf-day-4/
Whoa, lack of sleep is catching up to me and there are still two days to go. I'll be brief here and then hopefully come back later and post some photos.
Day started at 9am at the Adventure Centre for the CASBC and SAS volunteer trail day – thanks to Peter and Jeremy for organizing this and thanks to the sponsors for the great swag.
Good work was done on four areas: Rehab/check, Cat Lake, Area 44 and the Pet.
This evening's film and presentations rocked. Nina Caprez was very irreverent. She showed a film of a bouldering trip to Argentina – the Eruos she was with had quite a sense of humor.
Her presentation was a contrast to Cory who sometimes laid it on the line and had a inserted some funny and strange quips and anecdotes. Then he got dead serious in his Film Cold. The first winter ascent of an 8000 meter peak in winter.
So that's the short version. More later.
….Later, OK here are some photos from the great day yesterday


The CASBC and SAS trail day crew


Volunteer crew at Cat Lake

Charlie Harrison and Hoi-en Tang from SAS

CASBS director, Adam Connor explaining the benefits of membership to Kevin Henshaw and Lauren Baldwin

Nina Capriz


Cory Richards with his fiance Olivia Hsu
Read more http://squamishclimbing.com/2011/07/15/smf-day-3/
Woke up to another beautiful clear blue sky today.  The weather is just perfect. Anybody remember last year? It rained nearly the whole five days. Maybe I had a bit too much sun yesterday but I was feeling a little sluggish so headed into the forest of the Grand Wall boulders and did some bouldering. In the afternoon my energy picked up so I went over to the Malemute and top-roped High Mountain Woody.  It was just me and the seagulls out there enjoying the ocean breeze. I don't know where everyone was but that is a great place to climb. And HMW is very nice route, perfect finger locks and hand jams.
Tonight's festival lineup began with a slide and film presentation by American climber Jonathan Siegrist and director Keith Ladzinski. They teamed up with climber / director Andy Mann and climber Nini Caprez (who was at SMF last year) to climb some of the classic lines of Verdon Gorge.  There was some good material there and the photography was very good, but there was not a whole lot there to engage and sustain a documentary feature.
The highlight of the evening was Sonnie's slide show on the trip he took with Alex Honnold and photographer Andrew Burr to the Copper Canyon in Mexico to climb El Gigante. Sonny calls this the Yosemite of the south, there is so much climbing potential there in a canyon that rivals the Grand Canyon. El Gigante is a 844m (3,000′) wall with a 27 pitch 5.13 route on it.
The trio were dodging shady marijuana grow operators at the bottom of the canyon. On the way in they were  told a couple of people had been shot in the area. A memorable line in Sonnie's story is that Alex told him not to yell off belay after the first pitch, Alex said he wanted to be well off the ground before they could have a chance to shoot him. Sonnie and Alex did the climb in under 24 hours. It looked very steep, technical and long. If any of you read his blog or any of his articles you know Sonnie is a strong writer with a talent for story telling.  He can do the same in a slide presentation.
A bigger crowd was out tonight. I met a couple from Tucson, Arizona Lauren and Andy, I hope I remembered their names right. This is there third time to Squamish. So I guess they like it here. They say the climbing variety is amazing.
I'll post some photos of some people you may recognize but before I do a couple of programming notes; Saturday and Sunday are big Festival Days
At 3pm there's a Tug of War and at 4pm a mean Dodge Ball happens.
The very popular guiding clinics start at 9am at the Adventure Centre. All the clinics are sold out except the Adventure Photography and Multi-pitch clinics.
There is also a Trade Fair and Gear Demo happening all day at the Adventure Centre and a Flashed Dyno Comp.
And hopefully there will be a good turnout to the Climbers Access Society of BC (CASBC) Volunteer Trail Maintenance Day.  I have gone for the last three or four years and can tell you it's a good rewarding time. You can feel good giving back to the community and you are guaranteed not to go home empty handed from give-aways by generous sponsors. This starts at 8am at the Adventure Centre.
Some photos from Day 3
Read more http://squamishclimbing.com/2012/07/14/smf-day-3-sun-sun-sun-and-sonnie/
Woke up with the morning rays streaming over the northern shoulder of the Chief brightening up the town of  Squamish. What a beautiful place.
A lot of community and fun events happened today. For the first time I didn't sign up for one of the clinics. But I saw everybody heading out and they all looked psyched for a day of hands on learning.  I opted to join the CASBC Volunteer Trail Maintenance Day. There was a great turnout of over 25 people. Some excellent work was done at Murrin Park, Area 44,  the Chek and North Walls. All the volunteers were rewarded with some awesome swag.
I stuck around the Adventure Centre after that and somehow got roped onto a team for the Maixm Ropes Tug-o -War.  We crushed every other team to win a rope each!
It was Big Wall night at the Eagle Eye Theatre, featuring Glen Denny a big wall pioneer from the sixties in Yosemite and Squamish's own Will Stanhope.  The two offered great contrasts between what climbing was like in the sixties and how it is now. Perhaps not too surprising, there is a lot of similarities too, like the fact that generations of climbers pull pranks on their partners, push the limits and revel in the beauty of climbing.
Checked out the Tropical Themed party down at the Howe Sound Brew Pub to wrap up the night. It was good to see Jeremy Smith, a local who can pull down and climb with the best of them, behind the turntable spinning and playing some great rhythms.
Here's some photos from the day
Now it's the end the day and the volunteer crew gather for a group shot with their swagCrag Maintenance Day: keeping the green backFixing a trail up at a new crag in MurrinPull harder
Read more http://squamishclimbing.com/2012/07/15/smf-day-4-pulling-all-together/