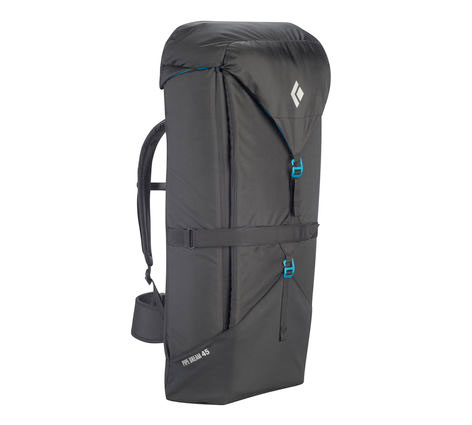 I have to admit, when I first saw the Black DiamondPipe Dream, I thought it was just a gimmick that all the cool kids in Rifle were sporting. I mean, it looked unnecessarily large and bulky, and why would I need a mini-crash pad for sport climbing?
And then I got one, and my perspective was changed. I generally prefer larger packs, and even for sport climbing it was nice to have a big burrito to fill with rope, draws, clothes, water, food, etc. This was especially nice for winter cragging, when the kit tends to be a little heavier with more layers, thermos, etc.
Named after the incredible cave in Maple Canyon, the idea was to have a pack that you could lay out at the base of dusty sport crag, keeping your things from getting covered in the moon dust that lives at the base. It also provides a comfy spot to sit and put your shoes on without covering your butt in said dust.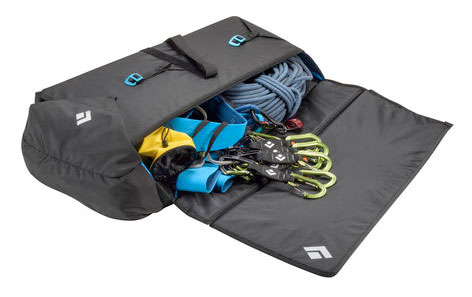 It carries well with typical sport climbing loads, though once it gets heavier you'll notice a decrease in performance. The material is bomber and I've been using mine for several months without any noticeable wear spots. The top lid has plenty of room for extras, and a hidden stash pocket for keys, wallet, etc. It's also removable, in case you just want an open burrito crash pad style pack. And the shape allows you to keep cramming in as much as you can fit, with adjustable straps that easily make the pack smaller or larger.
People will probably give you some odd stares as you cruise around with what looks like a small crash pad on your back, the way I was eyeing the cool kids in Rifle, but you can rest assured that they would probably feel differently if they had one too.
Retail: $169.95
Weight: 4 lbs.
Disclaimer: Wait! Before you go handing over your credit card number, ask yourself, do you really need to buy more new stuff? If so, this product is worth a look. In the spirit of full disclosure, it was provided to SplitterChoss.com for the purpose of reviewing. Don't worry, though, our integrity can't be bought!
Steph, Jamie Zartman here, D-2898, SCR 729. I live in Grand Junction after retiring. I use
Osprey packs
for my camera gear, and just happened upon your terrific video on
Climb2Fly
.
Back in the 70s', I loaned my parafoil to the late Carl Boenish during a jump meet in Lake Elsinore. It was Carl's first jump on a ram air parachute. I think he became immediately hooked on square canopies on that day.
Here is a photo I took last year of an Osprey feeding a "stick chick" the remains of a sea trout, at a beach in Florida. Thought you might enjoy it.
I have always missed jumping and keep thinking about making one for my 70th birthday in October. They didn't have GoPros when I was jumping, just heavy SLRs and 16mm then.
Safe journeys and best wishes…Jamie Z
Hi Jamie,
Thanks for the great stories, and amazing photo! I just got to see an osprey hunting while I was in Annapolis last month, and it would have been worth the whole trip just for that. I hope you will have a great time on your birthday jump (Skydive Moab?)….and maybe get back into it again
Steph
Article by Dom Pascariello
Rope stretching-classic climbs, shaded belays, and beautiful silence. Criteria for a fantasy crag, perhaps? You'll be glad to hear you do not need to develop your own routes in the backcountry in order to find these striking climbing characteristics. You simply need to visit the Hinterlands at the infamous sport climbing mecca of Rumney, New Hampshire.
On a busy weekend at Rumney, do yourself a favor and escape the crowds and congestion. The 30 minute hike to the Hinterland leads you through some of Rumneys most impressive landscapes, like the phenomenal
bouldering
at the Black Jack Boulders and a few great routes housed at the Starship Enterprise and Triple Corners walls. After climbing a short fixed rope in a gully, and some lose footing at higher elevations - you will be glad you didn't wear your cragging "mandals" when visiting the Hinterlands.
When you arrive, make sure to take a ride on the ultra-classic route "Jolt" 5.10a, which was recently trundled, cleaned, and re-anchored by the Ward brothers after a large section of the fin separated from the cliff sometime in 2014. Other classic routes in the area include "Electric Shocks" 5.8+, Nicky's Crack 5.11d, and Giant Man 5.12b/c.
Don't forget to wear a helmet and knot the end of your rope. The Hinterlands has experienced rock fall in the past, but don't let that deter you from checking out the area. Use your judgment and make sure you don't hang out in any prominent rock fall locations. The fixed rope in the gully should be no problem for any climber. However, nonathletic dogs, children in strollers, and elderly spectators may want to sit this one out. Warming up at the Starship Enterprise wall is highly recommended and the area is typically quiet and calm.
Hi Steph! I bet you have a pretty tight schedule, but I'll be traveling down to Utah with a friend and her dog in the beginning of September, and was wondering if you had some suggestions of where to definitely go during our time there. The most beautiful walks/hikes that are dog friendly. I've been trying to do some research but I find asking someone from there with similar interests is the best way to go!
Marilia
Hi Marilia,
I love that you sent me this question because my thoughts about dog friendly hikes immediately went to weather and conditions at that time of year…and it reminded me of how lucky Cajun and I are to live in a place where "dog friendly" isn't a synonym for "places humans are letting dogs go." I also love that you sent me this question so I can post lots of dog pictures!!! Every hike in Moab is dog friendly in terms of being "allowed" to be there, so it's really about picking the right walks for the season.
In early September, it's usually still pretty warm, so you'll have to be careful with heat and water. If you're lucky enough to get a big rain, there will be lots of potholes full of water around and any creeks will be full, but I wouldn't count on it. I've seen dogs who aren't from the desert not understanding that they have to seek shade and drink and get heat exhaustion when no one was expecting it, so try to really pay attention and make sure her dog isn't getting too hot or dry. A nice short hike that follows water is Grandstaff Canyon, just off River Road (the trailhead is a parking area with a bathroom, right next to the end of the Porcupine Rim trail). There are also campsites across the street, along the river. Just be on the look out for poison ivy, because it likes water too and there is a fair bit around the trail (you can easily avoid it, but you have to pay attention.)
I like the Porcupine Rim trail also, going up from River Road (you can take a look at that when you go to Grandstaff Canyon).
If it's not too hot or if it's somehow cloudy, you'll like the Corona Arch hike. It's another short one, it does tend to be sunny and doesn't have any water, but you get a good arch at the end.
Also, the trail up to the top of the Tombstones in Kane Creek is really nice.
The Fisher Towers trail is definitely one to do, hiking out to the Titan and back.
Another great thing you can do is get up in the Lasals, and then heat won't be an issue because the temperatures are much lower, and you can do some peak bagging. Gold Knob has a great trail and an amazing view into Castle Valley. Of the higher peaks, the shortest, easiest one is Haystack, and it's really nice. Mount Peale is longer, and also really nice, and Tuk and Little Tuk are longer still and really beautiful. These hikes are pretty rugged, they start on faint trails and then turn into steep, shifty talus up to the summits, but they are great adventure and perfect for dogs who are comfortable in more mountainous environments.
A great trail in the Lasals is the Oowah Lake trail–it starts at Oowah Lake, goes around the right side of it, and then goes up to Boran Mesa and joins up to Geyser Pass road. This is one of my all time favorite running trails, and would also be a great hike.
Hope you have a great time, and don't forget the water and dog treats!
Steph
Well played Oregon…#waterfallwednesday #outdoorwomen #sheexplores #discoveroregon (at Umpqua National Forest)