It's a great honor for me to be asked training advice, but it's also a circle of frustration. The only thing that keeps me from strangling the climbers that contact me, receive advice, and ignore the advice is the fact that I do the same thing myself. Most of us inherently understand the value of, say, eating well and being flexible, but most of us have a hard time doing the "needed" stuff.
Read more http://www.climbstrong.com/articles/20160427_1
Black Diamond Livewire Quickdraw – Water Stone Outdoors
Progression – Climbing Magazine
Petzl Reverso 3 belay device, Mountain Hardwear Runout climbing pants, Mammut Infinity 9.5mm rope, Black Diamond C3 cams – The Mountain World
La Sportiva Speedsters – straight outta bedlam
SuperTopo Guides To Zion and Tuolumne – Climbing Narc
Five Ten Team rock shoes – Sicky Gnar Gnar, Climbing Narc, Paul Robinson

Black Diamond Aura Harness, La Sportiva Mantis – Rock Climber Girl
Sterling Ice Thong 7.7mm twin rope – Colorado Mountain School
Patagonia Alpine Wind Jacket – SplitterChoss
Five Ten Copperhead – GetOutdoors
Black Diamond C3 and Oz and Petzl Reverso 3 – Dream in Vertical
Read more http://www.allclimbing.com/archive/2009/10/climbing-gear-review-roundup-10809/
Blind climber Erik Weihenmayer, climbs Eldorado Canyon's The Naked Edge to benefit the Access Fund in this incredibly inspiring video.
(via Colorado MoJo, Prana)
Read more http://www.allclimbing.com/archive/2009/12/climbing-video-erik-weihenmayer-climbs-the-naked-edge/
Interesting video from TED showing how lessons learned in rock climbing apply to daily life.
Read more http://www.allclimbing.com/archive/2009/11/climbing-video-the-9-rules-of-rock-climbing-from-ted/
It doesn't really matter what I write. It seems that within two hours of putting an article up, I get a "yeah, but…" email explaining how whatever I wrote just won't work in x program and could I please explain how one might do y… Clearly, most of us have all the time in the world to dedicate to analysis and planning, but have very little time for execution and review. A few weeks back, I put out a piece on intermediate bouldering, which prompted emails and Facebook messages asking me to write an article for a V3 climber instead. I got almost the same email from someone asking about a V11 article.
A good first step would be to read the article and realize that it's not about the grade, but about the climber's adaptation level - chances are you can adapt at the intermediate level whether you climb V3 or V11. The article you're reading now is similar. Regardless of what your max grade is, the following information might not be appropriate for you. This is a highly advanced training strategy that you can use for breaking hard plateaus, but should not be taken lightly. When your plan is failing to produce and you seem to just be getting back to the same level season in and season out, a major change is needed. Short of moving to a new area or taking an extended holiday in Flatanger, there is one technique supported by science that stands out above all others:concentrated loading.
Read more http://www.climbstrong.com/articles/20151006
The debate rages whether to load your hangboard training with added weight or to go to smaller holds. Whether to hang one arm or two. Whether to train multiple grips or just one. The answer, and you won't like it, is all of these are right, at a certain time. The only huge error is to constantly follow one program, a recipe for injury and staleness.
Read more http://www.climbstrong.com/articles/ContrastHangboard
This tip explains our preferred set and rep profiles for resistance training, and how to integrate resistance training with climbing strength training.
Read more http://www.climbstrong.com/articles/20151023
We all love a good story, especially the ones we want to be true. One of my favorites is that of Milo of Croton, a Greek wrestler who lived in the 6th century BC. Milo, was, by all descriptions a very strong and talented athlete, so much so that his legend outlived him by thousands of years. The stories about him are incredible, including that his daily diet consisted of 20 pounds of meat, 20 pounds of bread and 18 pints of wine...
Read more http://www.climbstrong.com/articles/20160315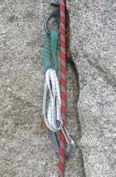 Kolin Powick from Black Diamond posted another excellent gear testing article, this time on the different methods of extending slings on cam placements. He illustrates the three common methods he uses (same as mine) and then examines a sling-on-sling approach he thought was dicey.
The sling-on-sling method of extending a cam sling does save the use of a biner but in my opinion is cumbersome for both the leader and the second. It also appears to reduce the ultimate strength of the system, however, in most cases not so much as to be the weakest link in a real-world climbing situation.
Read more http://www.allclimbing.com/archive/2009/11/extending-cam-slings/