You've heard it many times - when someone sends their hardest it feels effortless. We talk about it as the "flow" state or as having an out-of-body experience. No matter what you call it, it's a performance state you'd like to recreate as often as possible. We usually see ourselves get to this point toward the end of several weeks or months of consistent climbing. If you find it a few time a year, you're lucky. The worst part is it's hard to predict when such a performance will happen.
Read more http://www.climbstrong.com/articles/20151110
It used to be that climbers trained in the winter and redpointed all summer long. These days, we see many more performance-minded climbers and they are willing to train in-season if it gets them the big sends. The key with in-season training is to make sure you don't mess up your redpoint days, yet keep enough fitness to send all season.
The great majority of climbers hold two things in common:
1. They like to send.
2. They have to work.
Read more http://www.climbstrong.com/articles/20160610
In the spring of 2015, we started experimenting with the excellent finger and upper body strength program designed by Australian powerhouse Chris Webb-Parsons. For those of you unfamiliar with his program, it goes like this:
Find an edge you can hang on the hangboard (single arm) in a half-crimp position. Using a rope or sling, hang this edge with one hand while taking weight as necessary with the unloaded arm. The program calls for three sets of hangs in each of three positions: straight arm, bent arm (slightly greater than 90 degree bend), and lock-off. Doing nine sets total, you'll take as much weight off as necessary to complete the set time (usually 10 seconds or 5 seconds...see below). At the end of each set, release the assisting arm to increase the load on the working arm.
Read more http://www.climbstrong.com/articles/20150930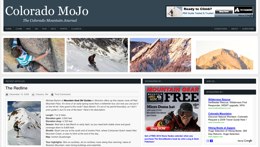 Dougald MacDonald recently launched a new site focused on the Colorado backcountry called Colorado MoJo. I caught up with him to ask some questions about the site.
What prompted you to start a new website focused specifically on Colorado outdoor pursuits?
I started Colorado MoJo because I couldn't find anything else online that covers all the outdoor sports I love, close to home. There are lots of great outdoor sites, but they're mostly sport-specific. Most people I know don't just climb…they also ski or mountain bike or hike 14ers. There was a need for one site that covers multiple backcountry sports, and exclusively in Colorado.
The other issue is that many of the best sites are forum-driven, and you have to read through a mountain of posts every day to get the most out of the site. With Colorado MoJo, we sort through all that information and only publish the real gems, the must-reads. Essentially, it's a daily online news magazine.

Have you encountered any specific challenges launching a site focused on the Colorado backcountry?
Just lack of time. There is so much to cover, but this is still very much a part-time gig.
What types of content will Colorado MoJo publish?
All Colorado. Mostly backcountry. I started the site with the sports I know best: rock and ice climbing, mountaineering, hiking, backcountry skiing, and trail running. We'll expand from there, but only when we have real experts to manage those pages.
The site is designed to be about 50 or 60 percent news, 25 or 30 percent inspiration and how-to information, and the rest off-beat, unpredictable stuff. We take a pretty broad definition of "news." In climbing terms, that might be new routes or access issues, but it also includes first-person stories about cool climbs, epic tales, and photo- and video-driven stories.
We're building a library of Classics, and we want to create mini-guides to climbing areas that aren't well known. Obviously, a lot of this information is already available at sites like Mountain Project or Summit Post, but we think there's an opportunity to present it in a fresh and possibly more useful way.
Please talk a bit about what you don't cover and why.
The main thing at this time of year is we're not covering resort skiing and climbing gyms and indoor competitions. Nothing wrong with those things, but Colorado MoJo is focused on the backcountry. That said, something like the Ouray Ice Festival would fit in our pages.
We're not covering mountain biking or paddling yet, though that could change in 2010. And we're not doing gear reviews. I think we'll eventually start covering equipment, but not until we can do it in a way that brings something new to the table. There's not a lot of truly Colorado-specific gear.
How many contributors do you have so far? Any trends you're seeing with what is being submitted?
I launched the site in late November, and until now I've either written or solicited most of the stories. I've been getting some great contributions from climbing and ski guides around the state. They really know their local areas. I'm hoping to have a couple of regular contributors on board very, very soon, and that will broaden and deepen the coverage, especially in skiing.
How can my readers contribute? Any content type or activity that is currently under-represented?
We need to set up better ways for readers to contribute, but the door is definitely open. We're looking for stories about new routes, epic adventures (in Colorado), and just great days out in the hills. Photo essays or video clips are super-cool. I'm also looking for Classics and mini-guides. People should contact me directly if they have an idea: Ten adres pocztowy jest chroniony przed spamowaniem. Aby go zobaczyć, konieczne jest włączenie w przeglądarce obsługi JavaScript..
Lots of times, people post a story or report at one of the big forum-based sites and it immediately gets buried. We can lay out a reader's contribution in a way that will really showcase it, so it will stand out from the crowd, and it will be highlighted for much longer on Colorado MoJo than elsewhere.
On a personal level, what are your favorite aspects of the Colorado backcountry?
Well, I've always been a climber first. I've been climbing for more than 30 years, and what keeps me going strong is variety: I like mixed routes in the mountains as much as sport climbs at Shelf Road. But, as I said before, I just like to spend lots of time in the mountains, and so I also love skiing, hiking, and trail running.
Anything additional you'd like to share with All Climbing's readers about Colorado MoJo?
The site is brand new and still developing, and we're eager to hear from readers with story ideas and suggestions for what they'd like to see at MoJo. Drop me a line! We're also on Facebook and Twitter, and those pages get updated even more frequently than the main site.
Dougald MacDonald has been skiing since he was 3, hiking since he was 5, and climbing since he was 16. He moved to Colorado in 1987, specifically for the mountains. Dougald was the publisher and editor in chief of Rock & Ice magazine for a number of years, and was the founding publisher of Trail Runner magazine. These days, he's an associate editor of the American Alpine Journal, and writes most of the news for Climbing.com. Dougald also writes frequently for Outside, Backpacker, 5280, Men's Journal, and many other magazines. He also wrote the book Longs Peak: The Story of Colorado's Favorite Fourteener. He also writes a personal blog for the past five years at (http://themountainworld.blogspot.com).
Read more http://www.allclimbing.com/archive/2009/12/interview-with-dougald-macdonald-of-colorado-mojo/
Donate to help with Layton Kor's medical expenses for his kidney transplant and be entered to win a climb with pros including Steph Davis and Tommy Caldwell.
Each $25 donation gives you a chance a winning one of five historic Kor climbs:
Castleton Tower with Steph Davis, The Cruise with Jimmie Dunn, Kor's Flake with Tommy Caldwell, Kor pitches at the Gunks with Eric Horst, or Washington Column with Conrad Anker…. Each time you donate, we'll toss your name in a hat. As a thank you, we'll give back to you what we're able to give: these climbing days and some amazing gear bundles donated by prAna, Five Ten, Mammut, Marmot, North Face, MSR/Therm-a-Rest, Clif Bar and Backcountry.com, every month.
Full details at http://laytonkorclimbing.com/ and Stewart Green's blog.
Read more http://www.allclimbing.com/archive/2009/09/layton-kor-fundraiser/
Always good to keep in mind:
In order to progress, you need to continually push your limits, both mentally and physically. I have always worked up the grades one letter at a time, sticking with the grade pyramid. Yet what is the worst that could happen if you push the bar and you get in "over your head"? You fall? You might as well just go for it.
(via Life in a Hippy Van: Stepping out of the comfort zone)
Read more http://www.allclimbing.com/archive/2009/09/leslie-timms-on-stepping-out-of-the-comfort-zone/
I finally got around to watching last week's Louder Than Eleven and ClimbingNarc's Talkshow #1 The Show With No Name. Brian interviewed professional climbers Paul Robinson and Alex Johnson on a variety of topics including viewer submitted questions. I found the training discussion (first 20 minutes) particularly interesting. Looking forward to the next one!
Read more http://www.allclimbing.com/archive/2013/09/louder-than-eleven-and-climbingnarcs-talkshow-1-the-show-with-no-name/
The most sustained commenting I see on posts here are those related to climbing injuries. There's also been increased activity on my post from February where I described my A2 pulley injury and the steps I began to recover.
Many of the comments from other climbers related to their injury, how they've been treating it, and where to go for additional advice.
Since these posts live forever via search engines, I thought it may be useful to simply have a post where anyone can comment on what doctors or other medical professionals they've found to be helpful in dealing with climbing related injuries.
I'll start things off by listing some I recommend:
Kim Raupp, certified hand therapist, Lafayette, CO – She worked on my partially torn A2, helped me with an excellent rehab path, and I'm getting close to being fully healed.
Dr. Jeremy Rodgers, sports medicine/chiropractic care, Boulder, CO – He helped me with my elbow tendinitis.
Dr. Stephen Gunther, orthopedic surgeon, Washington, DC, – Diagnosed recurring shoulder issue ("loose" shoulder) and provided resources for rehabbing a separated shoulder.
Please add yours in the comments and hopefully we can compile a nice resource for all our fellow injured climbers.
Read more http://www.allclimbing.com/archive/2009/11/medical-professionals-treating-climbing-injuries/
After a thrilling end to the IFSC Bouldering World Cup season, IFSC athletes and fans now turn their attention to Imst for the fourth IFSC Lead World Cup of 2016.
Imst has been a staple on the IFSC Lead World Cup series since the inception of the IFSC in 2007, and Imst also hosted the IFSC World Youth Championships in 2011. On August 19th-20th, the small town of Tyrol welcomes a new group of Lead athletes for the eighth IFSC Lead World Cup in its history.
Don't miss the LIVE Streaming of Semi-Finals at 18:30 on Friday and Finals at 19:30 on Saturday (GMT+2). Meanwhile, visit the dedicated event page for an introduction to the event, 2015 replays, start lists and further information.
Read more http://www.ifsc-climbing.org/index.php/latest-news/item/796-next-up-return-to-the-ropes