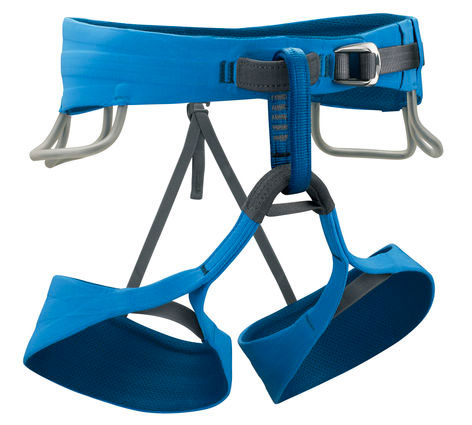 Touted as a sport climbing harness, the Black DiamondSolution stands out as an extremely comfortable and adept all arounder that is priced well below other comparable harnesses.
On a recent trad climbing trip, I wore the harness on numerous three-pitch climbs, carrying a double set of cams with ease. I have bony hips, and many harnesses dig into them uncomfortably. Not so with the Solution, which features Black Diamond's new Fusion Comfort Technology, a design process that uses three separate strands of webbing in the waistbelt for better load distribution while keeping the profile slim. It also uses more material on the hips and less on the front and back, in my opinion the best way to make a harness comfortable.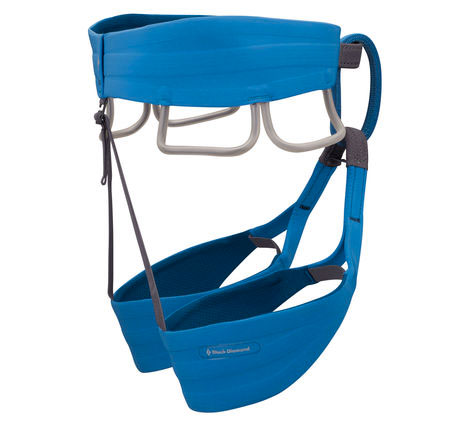 Durability wise, I've been keeping a careful eye on it, as a harness made for sport climbing typically isn't meant to take the abuse of scumming up corners. So far, I've found that it's held up well, with only a little wear on the leg loops from scraping up a couple corners in Indian Creek.
And of course, for sport climbing, it's fantastic. The comfort is spot on, it doesn't weigh much, and feels unobtrusive while wearing it. Falls and hangdogging were comfortable.
A harness this nice with brand new technology would typically be priced towards the top of the line, but somehow it comes in at only $69.95. With that kind of value, combined with top-notch performance, I highly recommended this harness for anyone needing an all-around rig that's light and extremely comfortable. It's also available in a women's specific model as well.
Retail: $69.95
Weight: (Size M) 330 g (11 oz)
Sizes: S – XL
Ideal use: Sport, Trad, Multipitch
Disclaimer: Wait! Before you go handing over your credit card number, ask yourself, do you really need to buy more new stuff? If so, this product is worth a look. In the spirit of full disclosure, it was provided to SplitterChoss.com for the purpose of reviewing. Don't worry, though, our integrity can't be bought!
Excited for Rifle this weekend