W Tatry zaciągnął mnie wspominany warun stulecia. W niedziele wieczorem wyjechaliśmy do Zakopanego wraz z Romkiem Batsenko. W planach była Metallica, ale już na samą myśl dostałem jakieś niezidentyfikowanej gorączki i wycofaliśmy się chwilę po tym jak osiągnęliśmy Palenice, do bazy u Basi gdzie spędziłem kolejny dzień na podgryzaniu czosnku z imbirem.
We wtorek Romek udał się na wspinanie z Kasią Cieślak, gdzie udało im się sprawnie pokonać Sprężyne VII- na Mnichu. Kasia poprowadziła wyciągi (VI-, VI,VII-) a Roman jako wytrawny boulderowiec pokonał 3 ostatnie wyciągi (VI+, V+, V+) w stylu od stanu do stanu, z ciekawości wrzucając w połowie pojedynczą kość. Mnie zaś udało się zdobyć schronisko w Morskim Oku drogą klasyczną 1583 m.n.p.m oraz Wielki Trawers Morskiego Oka.
Środa to porachunki z Ministrantem czyli sesja zdjęciowa na Opętaniu której nie udało nam się zrobić przed wakacyjnym tripem w związku ze słabym warunem. Roman mógł poznać Tatry z bardziej stromej strony, a ja mogłem rozruszać się na interwałach lewo-prawo. Dodatkowy klimat robiła gęsta jak śmietana do naleśników mgła która skutecznie utrudniała nam powrót do schroniska.
Czwartek znowu po ledwo kilku godzinach snu wstaje zaspany i uderzamy w ścianę. Tym razem z Karoliną Ośką. Tym razem ma być poważnie bo za cel obieramy sobie najdłuższą i najtrudniejszą drogę na "ścianę ścian" czyli mitycznej Kazalnicy. Karo miała już doświadczenie na Kazalnicy bo niedawno poprowadziła pobliski Filar i wiedziała jak się stamtąd schodzi, a ja mam doświadczenie w wypuszczaniu nóg w powietrze, a na filmiku widziałem, że w cruxie taka umiejętność się przydaje.
Poważni wspinacze przed poważną ścianą
Pierwsze kilka wyciągów prowadzimy na zmianę. Bolty są dość daleko od siebie, czasem ich nie ma wcale, ale jest łatwo, a czasami nawet fajnie (szczególnie 4 wyciąg polecam!). 6 wyciąg jest również pierwszym trudnym wyciągiem (IX-). Po zapędzeniu się w ślepy zaułek tracę sajta, ale w drugiej próbie pokonuje ten odcinek.
Kluczowy Wielki Okap w wykonaniu zespołu Xsięski-Lama:
Kolejny wyciąg to słynne IX+ przez "Wielki Okap". Boulder w dachu z wylotem nóg na dołożeniu wygląda całkiem zacnie. Na pierwszy ogień ciśnie Karo jako, że zna ruchy z wcześniejszych wstawek. Cieszy się, że jest bardzo sucho "jak na tą drogę", ale patrząc na niektóre cieki wody i jak ciągle wyciera ręce w spodnie jakoś ciężko mi w to uwierzyć. Następnie obserwuje jak walczy by wpiąć się do przelotu w dachu po czym jednak bierze blok. Po wpięciu liny spokojnie sięga za okap, przechodzi na nogach, dokłada i kolejna wpinka. Na pytanie gdzie jest crux, odpowiada uśmiechnięta, że to był crux nie licząc wpinki… Znowu nie wierzę gdy dochodzi do krawędzi okapu do wielkich klam stwierdza, że dalej już jest łatwo (nie wierzę) i że jest stosunkowo sucho (znowu nie wierzę).
Następuje zmiana na prowadzeniu. Idę koślawo i sztywno bo nie lubię wspinać się w sypiącej i mokrej skałce. Mówię Jej, że pójdę ile się da, ale biorąc pod uwagę zgrabiałe palce nie wierzę jakoś bardzo w sukces, a raczej myślę, o drugiej próbie. Dochodzę pod okap i osiągam cruxa w postaci wpinki za plecy w dachu z wilgotnej klamki. Żeby się wpiąć i nie wyjechać najpierw długo przebieram nogami, potem przedłużam ekspresa, a następnie wpinam line. Trochę to trwa więc już czuje się lekko nabity. Gdy sięgam do dwójki w dachu zupełnie nie czuje jej przez zmarznięte palce i na zmianę wsadzam środkowy palec ze wskazującym lub serdecznym. W końcu dochodzi do mnie nabicie więc mimo braku wiary (ale dzięki nawykowi z zawodów) postanawiam po prostu rzucić się za kant w stronę chwytu gdzie przed chwilą Karo z takim luzem sięgała. Wylatuje mi wszystko łącznie z wcześniejszą dwójką, ale jestem wystarczająco szybki by dołożyć drugą rękę w locie. Chwyt okazuje się zdecydowanie większy niż myślałem, więc z powrotem mogę się opanować i trochę odpocząć. Kolejne parę sprężnych ruchów, a następnie miał być reścik nad okapem. Sekwencje pokonuje zupełnie inaczej niż Karo, a następnie próbuję wejść w resta który odnalazła po lewej. Jak się później okazało mamy zupełnie inne definicje resta. Więc wychodzę jeszcze bardziej zbułowany, a po kilku ruchach osiągam klamy w przewisie. Jest to dla mnie znana sytuacja więc mogę się w końcu wyzerować. Dochodzę do miejsca gdzie Karo zjechała bo dalej jest łatwo… Chwyty jakieś krzywe, stopnie lekko się sypią, a przewieszenie za małe by wypuszczać nogi, a za duże żeby stać w no handzie. Na końcowych paru metrach spędzam najwięcej czasu, a główny cruxem znów okazuje się wpinka, którą trzeba chyba tradycyjnie już na tej drodze wykonać z najmniejszego dostępnego chwytu. Dodatkowe utrudnienie powoduje przegięcie lin przez za krótki ekspres dzięki czemu wpiąć udaje mi się tylko jedną żyłę i to dopiero chyba w 5 próbie. Potem tylko kilka ruchów po mokrym cieku i zadowolony dochodzę do stanu. Karo robi wyciąg z zapasem, jednak najwięcej czasu spędza na końcówce "z której się już nie spada" ufnie wsłuchując się w moje podpowiedzi.
Przybijamy piątkę i lecimy na kolejny wyciąg IX+. Jest dość mokro (choć bardziej sucho niż ostatnio jak tu była), a Karo nic nie pamięta, więc tym razem naprawdę nastawiam się na haczenie i ogarnięcie najlepszych patentów pod 2 próbę. Wyciąg okazuje się żywcem przeniesiony z dolinek podkrakowskich. Idzie przez lekko przewieszony brzuszek między dwoma łatwo wyglądającymi zacięciami które są na wyciągnięcie ręki i sprowadza się do dwuruchowego balda z czego dla mnie pierwszy ruch jest banalny, a drugi ruch polega na przypięciu gniota i dynamicznym ruchu 40 cm w bok do dobrej klameczki. Brakuje tylko czerwonej farby ogranicznika ale i tak miło, że trudności nie polegają tu na wpięciu liny. Karo też próbuje sił na tym wyciągu, ale również nie przypada jej do gustu, a czasu coraz mniej więc decydujemy, że jak jedna osoba zrobi to wystarczy. W następnej próbie prawie odpadam w łatwym terenie wypstrykując się z mokrej krawądy, ale po osiągnięciu no handa, wbijam się w balda i z zapasem egzekwuje sekwencje.
Film autorstwa Karo z Wędrówki Dusz:
Główne trudności za nami, ale została jeszcze połowa ściany do pokonania, a czasu coraz mniej. Tak więc zmieniamy taktykę i po prostu zapieprzamy do góry. Karo przejmuje prowadzenie na wyciągach które zna z prowadzenia filara. Pokonuje również nielogiczny wyciąg za VIII- który na siłę wiedzie kruchym przewieszeniem mimo że obok jest lita płyta. I znowu wpinki generują sporą część trudności. Gdy dochodzimy do trawersów na 13 wyciągu wyciągamy czołówki.
Mijają jakieś 2h, Karo wykonuje w tym czasie kilka telefonów, na zmianę chodzimy po trawnikach i szukamy spita stanowiskowego z 15 wyciągu. Gdy go odnajdujemy wbijam się w VII opisaną jako 50m 6 spitów i 1 hak. Wychodzę coraz wyżej i wyżej szukając spita i co jakiś czas zakładając niepewny przelot (raz że doświadczenie "niepewne" dwa, że skała "niepewna"). Dochodzę w końcu do miejsca gdzie klama którą uważałem za pewną rozpada się na 3 wielkie książki telefoniczne i prawie zrzucają mnie ze ściany. Urywam jeszcze kilka chwytów i stopni po czym postanawiam odwrót. Zeskakuje na trawiastą półkę z lewej by się opanować i zastanowić co dalej. Dochodzimy do wniosku, że w nocy jednak tego nie ogarniemy. Szukam gdzie mógłbym coś osadzić jednak na próżno. Wsadzam friendy w różne szczeliny po czym testuje je skacząc na nich będąc nogami na półce, ale albo one wylatują ze złowrogim odgłosem, albo przesuwają cały blok o który są zaklinowane. Po wewnętrznej szamotaninie wołam Karo i przyznaje, że utknąłem i po ciemku nie dam rady zejść. Karo wysyła mi na linie puchówkę, buty i trochę jedzenia. Łapiemy jeszcze zasięg i dzwonię do Kasi, żeby odwołała TOPR mimo, że nie stawimy się na czas w schronisku. Noc spędzam na półce układając plany awaryjne (chyba z 5 wymyśliłem), kalkulując ryzyko ( Czy ja to dobrze założyłem? Czy skałka wytrzyma?) i szczękając zębami. Generalnie było bez paniki, ale nieco smutno bo faktycznie dość łatwo mogłem połamać sobie nogi.
Jednak rano bardzo powoli i z namaszczeniem pukając każdy kamień udało mi się zejść najpierw do wcześniejszego cama, a następnie przez wszystkie wcześniejsze kostki do ziemi, a w zasadzie trawy. Czyli witamy wśród żywych i "Back in the game!" w jednym. W dzień bez trudu dostrzegamy przeloty które zostały wbite w parchaty najbardziej przewieszony fragment ścianki zupełnie z drugiej strony stanowiskowego spita. Karo najpierw walczy o pierwszy przelot który jest jakby troszkę za wysoko i troszkę za bardzo w lewo. Następnie powoli wpina drugi, wraca się ręką do wielkiej póły w podchwyt i… wyrywa ją dwiema rękami naraz! Jednak szybki mentalny ogar i znowu wstawia się. Tym razem wspina się jeszcze delikatniej i przechodzi całość tylko czasami zrzucając średnie kamyczki. Do topu pozostały już tylko 2 x V+ za to łącznie mające jakieś 125m. Na świeczniku stajemy o godzinie 11:36. Droga padła, my też padamy, a tu trzeba jeszcze wrócić… Fajnie, że Kasi i Tosi chciało się ponas wyjść z jedzeniem i wodą nad Czarny Staw
szczytselfie
PS. Coraz poważniej zastanawiam się nad pójściem na kurs taternicki, ponieważ za cholerę nie jestem w stanie sobie wyregulować kasku tak by nie spadał mi na tył głowy… Jakieś wskazówki?
(Editor's Note: I love the Petzl GriGri. It's been my main belay device for the last 15 years. To me, it's the gold standard for assisted-braking devices. And as such, any new device in this category should be compared directly to the GriGri for an honest look at how it stands up.)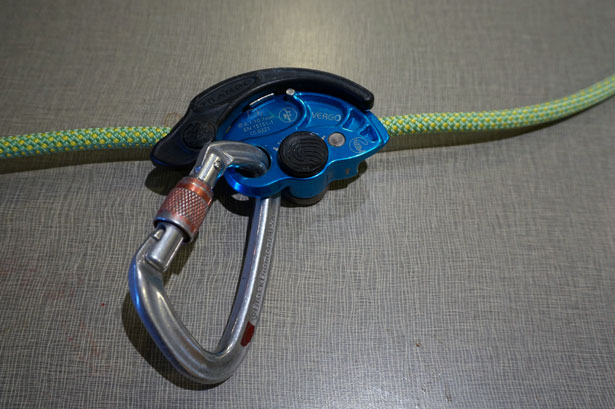 The GriGri was hands down one of the most important gear developments in the history of climbing. Since its inception, a number of companies have tried to offer devices that performed in a similar fashion, often trying to address a perceived drawback of the original. Over the years, I've had a chance to use many of them, and in my opinion, they generally fall short. No one wants to learn a complicated new technique, or have a lowering method that's jerky and unreliable, or pay a lot more money for it. If you are going to compete with the belay device that the majority of the climbing population knows and loves, your product can't be almost as good, it has to be equal to or better than the gold standard. You need platinum, baby!
Trango's latest belay device, the Vergo, is the strongest offering I've seen in the assisted-braking device category for a long time. While some might think it's simply a redesign of the Cinch, in talking with the folks at Trango they explained that they basically started over with the Vergo, even bringing in folks with PhDs in ergonomics to build a tool that would work as well as it could for its intended purpose, in the safest way possible.
The biggest issue with the GriGri, as they see it, is that in order to feed slack to a lead climber, you are in essence overriding the device. You prevent the cam from closing so that you can pull rope through. And while if used correctly, errors are unlikely, the reality is that there are accidents every year from people using them wrong. Trango approached building the Vergo with the concept of "what if the best way to use the belay device was also the safest?" The result is a device that feeds easily, locks up incredibly well, lowers smoothly and weighs nearly the same as the GriGri 2. Let's look at each of those aspects in turn.