Hey Steph:
Just wanted to write a quick thank-you note. I took your clinic in April and got to hang out and climb with a bunch of awesome women from all over the US & Canada (Jen!). On day 1, you asked us what we wanted to learn from your clinic. I told you I wanted to be able to take my husband out (or any newer climber) climbing and feel confidant and be safe. At the clinic I really wanted to focus on anchors (building & cleaning) and rope management in case I had a newer climber that might be struggling with a section of climbing while on multi-pitch. Lindsey helped me with a system to haul someone up/through a difficult move. It was good to finally get some skills that would give me the confidence to take other climbers out & be safe.

Last weekend I took my husband Doug and our girl Scout out to Apple Valley crags here in SoCal. It was a perfect day! I led a bunch of climbs and cleaned all anchors as Doug is a newer climber but it was SO great!

Thanks so much for hosting these clinics and being so generous with your time. Lindsey and Adeline were great too! I really did learn a lot and it was such a great experience to climb with such a great group of women!!!

Sincerely,
Agina
Thanks Agina, I'm so glad to hear your new skills have come in handy for you, Doug and Scout! I hope you all keep having great days on the rock!
Steph
Read more http://stephdavis.co/blog/womens-clinic-thank-you/
Read more http://feedproxy.google.com/~r/deadpoint/~3/YkvAu1t7auE/will-anglin-theres-no-climbing-maryland
I'm pretty new to climbing, just started in January 2016. I'm climbing 10a-bs, sometimes 10c, and was thinking of learning to lead climb. Should I wait a little longer, or just go for it? I hear different things from different people, and there are quite a few who say I should be comfortable climbing 11s before learning to lead. Your advice would be very much appreciated!
Gillian
Hi Gillian, I think that whenever you feel ready to start trying to lead, you should give it a try, but be calculated about it. No matter what level you're toproping, I would recommend stepping it way down with the routes you choose to lead. For example, if you feel really comfortable toproping 10a, look for 5.6s and 5.7s for your first lead attempts. There is a lot going on with leading in terms of managing the gear (whether quickdraws or rack), the rope, the clips and where to stop and rest–as well as the potential of taking falls, so make sure you are on terrain that is really comfortable for you to climb. In my clinics, we do practice leads (with a rope above) for exactly this reason, so the leader can focus on all the technical elements without the extra pressure of taking whippers on gear that may not be perfect (yet). My advice is to look at the big picture and try to reduce some of the unknowns for yourself–it may not be convenient or practical to do practice leads, but you can step down the difficulty of the climbing and that will help free you up to focus on the new elements of leading.
Remember to make sure you have a belayer you know and trust, and always make sure there's a knot in the end of your lead rope before you leave the ground!
Steph
Read more http://stephdavis.co/blog/when-to-start-lead-climbing/
Read more http://feedproxy.google.com/~r/deadpoint/~3/QCXv-jU9x5I/when-condis-come-0
When Peter Croft and Johnny Woodward first freed the Moonlight Buttress in 1992, they rated it 5.13b, making it one of the hardest big-wall free climbs in the world.
Over the next decade, the perennially popular "clean aid" route saw a handful of free ascents by a crop of well-known crushers, and, ultimately, consensus pegged the Moonlight Buttress down to 5.12d.
Nowadays the Moonlight Buttress is a casual day outing for people with 19-inch forearms who've never even placed a cam. A few climbers are starting to think the Moonlight Buttress might only be 5.12b—and if so, that makes it a full number grade easier than it was during the first free ascent.
So … what has changed since 1992? Were Croft and Woodward just a couple of grade fluffers compared to today's dime-a-dozen bone crushers?
Me thinks gnomes. After 24 years of aid climbers crawling up the Moonlight and bounce-testing every single textbook cam placement in the relatively soft Navajo sandstone, subsequently gouging out the 1,000-foot splitter one hang-dogging fat-ass at a time, the finger locks have meow gotten much easier.
At this rate, the Moonlight Buttress will be a super fun 5.9 hand crack soloed by every Honntard in a leotard.
To stave off this obscene destiny, can we all just please agree that the Moonlight Buttress is no longer going to be an aid climb?
Or … can we not agree to that?
This is the question du jour. Must we climbers be open, encouraging, and accommodating to every whimpering gumby who wants adventure like they want their Burger King orders—their way?
Here, that conflict is illustrated, perhaps, by the fact that Mountain Project lists two different pages for the Moonlight Buttress—one for clean aid, and one for free climbing.
Two worlds, not colliding online … but very much colliding in reality.
What's interesting about the Moonlight Buttress is that the "clean" protection ethic that was best first articulated in Doug Robinson's seminal 1972 article, "The Whole Art of Natural Protection" didn't account for what "clean" protection such as cams (not that cams were even around back then) would do to sandstone splitters after 20+ years and thousands of ascents.
If you're one of those climbers who thinks, "Hey, we're all climbers and it's all good, bro!" then you aren't thinking hard enough. Now that more and more people are interested in taking their sport-climbing-honed skills up onto big cliffs like El Capitan, I predict this discussion/conflict will define the next five to 10 years of climbing.
A discussion pertaining to this issue erupted on the Evening Sends Facebook page. Some of the most relevant voices in climbing chimed in about how fixed gear will begin to play a role in this unfolding conflict, particularly on El Capitan, which is a veritable 3,000-foot Christmas tree of shiny, fixed ornaments.
The question is no longer as simple as whether or not metal of one variety or another should be used. It's about answering a multitude of questions, beginning with is this route going to be primarily used by aid climbers or free climbers, and what kind of experience would improve the quality of the climbing on the route while remaining true to the original style in which it was first climbed (aid or free)?
Here are some highlights from the Facebook debate:
James Lucas:Maybe Valley climbers will remove bullshit fixed gear and replace it with bolts. At least people are starting to freeclimb more on El Cap.
Marc André Leclerc: I thought the bird beak protected climbing on Corazon was awesome. Would've been lame with bolts. You could rip a pitch and hit nothing but air anyways.
James Lucas:yeah…I'm not into it. If you're gonna alter the rock, it should be long lasting. A good beak for you might be shit for the next ascent. Punching holes in flakes on the top of Golden Gate, the fixed hexes on the Enduro pitch of the Salathe, the numerous pins, they should either be pulled and climbers should use the large variety of removable protection we have at our disposal (c3s, huge cams…) or bolts should be placed.People need to forget some of the traditional tactics and consider the future of the crag. If there's been tat on a bolt for fifteen years, the bolt shouldn't be given a permadraw, it should be moved. Set El Capitan up to have minimal impact. Climbing gear is good enough now that the pro should either be non-damaging and removable or it should be a bolt. Putting heads and pitons in the rock harms the rock more than a bolt.
Max Jones:A few years ago, Mark [Hudon] and I cleaned about 100 heads/deadheads from the first two pitches of Mescalito. In some places there were two or three stacked on top of each other. When removed many small cam placements appeared. What was odd is the crack, with all that copper, has essentially been sealed from damage by pins until beaks and good small cams were invented. Why would anyone want to clip their way up a time bomb head ladder when you can use ones brain and place gear. I think I agree that on the free routes bolts are better than placements that will blow out a crack.
Justen Sjong:James Lucas, If this is the case we are going to have so many cool new free lines on El Cap! I'm all for protection that lasts but not just adding bolts for sheer convenience. There is a fine line that we are walking but I strongly believe that most of us can make the right choice. Just think long and hard about the long term impact on the rock. Love seeing El Capitan getting so much free climbing traffic.

Dave Allfrey: There isn't a blanket rule to be applied here, Marc likes it, James doesn't, but I think there is a difference between a pitch that takes good beaks and, for example, the hammered in stoppers on the Enduro pitch on the Salathe. The wires are rusting, they are poorly placed and old, I doubt they would hold a substantial fall. Maybe Totem Cams would fit those weird flares, but Camalots wouldn't. It's a tricky, and perhaps slippery slope for making this changeover. I do think that if some of the fixed hardware were replaced with permanent gear (bolts) the climbing would be more fun and aesthetic. And, as important, we need to update some of the old, crappy bolts that litter the mountain (like the ones on 'The Move' pitch of Golden Gate, one already pulled out straight from the hole). It's too bad there isn't a way to receive a permit to power drill so that mass updates could be made and higher quality glue-in bolts could be added to anchors and routes on El Cap to preserve them once and for all.

Marc André Leclerc:The beaks on corazon are in an A1 seam, there are RP placements in between at times. I thought it was quite safe and added an adventure element. I've never been on Freerider, and admittedly the A5 traverse is a bit of a mess with long shitty slings hanging and stuff. I've definitely been put off by the slings hung so you can clip from low down. They rot, look like shit and are kind of weak sauce. The two routes I've done (Muir, Corazon) have none of it thankfully.I just don't think every pin or head needs a bolt slammed in right next to it. That's been done on routes in Squamish and it makes for unnecessary bolt in poor stances and takes away from the aesthetics of the route. A good example of this is The Great Arch, which goes naturally on good wires, but had original pins swapped one for one with bolts and is a mess.As a general rule if I place bolts in favour over leaving pins I put then well spaced with good clipping holds for good engaging climbing with airy runouts. Like the Underfling on the grand wall, which used to have pins and now has bolts, but significantly less bolts than the original number of pins.
Bolt All Of It? Some of It? None of it?
When Tommy Caldwell established the free Dawn Wall—as in, when he pioneered where the free route would go, which took place well before he actually got around to free climbing it—he made a number of prudent, tough decisions about where to place new bolts.
A big part of that consideration was leaving the original aid climb intact.
Caldwell reportedly placed no bolts on any pitches that were/are part of the original aid route. As a result, many of the free pitches that overlap with the aid climb are quite spicy, as confirmed by Adam Ondra's recent ascent of the Dawn Wall.
During his initial ground-up ascent, Ondra, on pitch six, a 5.13c, took a 40-foot fall after several copperheads and broke a sling.
"I didn't know how to place copperheads, so I didn't want to rip any more of them out of the wall," says Ondra. "So I aided up and tried to top-rope the pitch." (Obviously, he later led the pitch clean during his successful free push.)
Here's a great scenario to consider. This is a situation in which the gear is inadequate to protect free-climbing lead falls; replacing the copperheads after every fall would damage the rock, perhaps needlessly; and, subsequently, the use of aid-climbing gear results in using headpointing/top-roping tactics for free climbers, which arguably makes the experience more lame.
One solution, of course, to a situation like this might be to add in a few well-placed bolts. However, even a few extra bolts on a copperhead pitch detracts from the challenge and aid-climbing experience.
So, who wins?
As of 2016, there are only three people in the world who have freed this pitch. Obviously there are way more aid climbers out there, so should preference be given to aid climbers?
Or can we safely assume that, 20 years from now, there will be 300 people free climbing the Dawn Wall? And after all that traffic and nailing, will some of these pitches drop a full number grade—as they have on the Moonlight Buttress?
What do you think?
Thanks to Corey Rich for the opening photo of Tommy Caldwell on the 19th pitch of the Dawn Wall (5.13c/d).
The post When Do Aid Climbs Stop Being Aid Climbs? appeared first on Evening Sends.
Read more http://eveningsends.com/when-do-aid-climbs-stop-being-aid-climbs/
Read more http://feedproxy.google.com/~r/deadpoint/~3/8vDvLVWEPj8/wet-dream
We are back in Colorado and there is bit more snow than when we were here mid-September. Can't wait to get on some mountains! If anyone is skiing/snowboarding a-basin, Breckenridge, or keystone the next couple months let me know. I want to get out, meet people, shoot images, and learn more about life in the snow. #optoutside #colorado #snow #mountainlife (at Breckenridge, Colorado)
Read more http://katcarneyphoto.tumblr.com/post/153833615934
Read more http://feedproxy.google.com/~r/deadpoint/~3/6R27kRAaJ2M/uncut-mind-matters-v12
Read more http://feedproxy.google.com/~r/deadpoint/~3/Yky8lzGMccc/unaweep-canyon-bouldering
Article by Keith Nadeau and Kim Dallas
Here at Rock Spot, we're constantly striving to improve and listen to the requests of our members and guests. So we're excited to announce that we're updating the training area in the Lincoln and Boston-Dedham gyms! We hope to bring updates to the Peace Dale and South Boston locations in 2017. The new training space will consist of:
Gymnastic rings
Atomik - bombs/vertical pipe bombs
TRX straps
Hang boards
Pull up bars
System wall with a peg board
Bicycle
Yoga ball
Rice bucket
The new training space has two main areas: a system wall with peg board attachments and a cross fit station with hanging training tools. Both areas are used to develop upper body and core strength.
This blog post will explore the benefits of training for climbing and provide some sample exercises you can do next time you're in the gym.
Benefits of Training
The benefits of training directly relate to improved climbing ability. No two climbers are the same so it is important to understand your personal weaknesses and focus mainly on those areas. It is important to have some type of plan to see improvement from workouts. Doing one day of an exercise will show little to no improvement because it takes time to develop gains. For this reason, training is most commonly broken into phases. An example of a phase of training is doing two days per week of the same exercises for three weeks. Over the course of the three weeks, the workouts should be adjusted to keep them at a maximum effort level. This method of training will allow the body and muscles time to develop.
How Often Should You Train?
How often a climber should use the training area is not the same for everyone. One person may recover faster and handle more training load than someone else. Consistency is the key to success with any form of training. For someone who has never trained before, one day per week would be a beneficial schedule to get started on. To progress, you must increase frequency and intensity while also being careful to avoid overtraining. Three days per week should be the maximum, even for experienced individuals. If training three days per week becomes easy, make the workouts more challenging rather than adding more days. As a general rule of thumb, if you don't feel sore the day after a workout - the workout is likely too easy.
Training after climbing is generally preferred over training before climbing. It can be dangerous to fatigue major muscle groups and then attempt to climb. After climbing, the body is already warmed up and you can plan certain workouts to coincide with your climbing workout. Training on its own is also beneficial and sometimes better than if you climbed before it because you have more energy to use.
Safety
Like any other activity, safety should always be kept in mind while training. All forms of training require proper form and posture to ensure safety and maximum gains. Keeping solid posture is always a key step in using proper form. If a climber has a pre-existing injury some exercises should be avoided. For example, if a someone has wrist pain they should avoid push-ups because it puts pressure on the wrist in a bent position. Climbers should particularly be conscious of finger pain and not pushing limits when fingers are sore. Listen to your body!
Training is beneficial for anyone that is interested but it should be approached with a customized plan that matches the goals and ability level of each person. Most exercises including hang-boarding can be modified to adjust the intensity level. For example, pull ups are beneficial to people who can complete 3 repetitions max per set, and people who can do 15 repetitions max per set with an added 30 lbs. of weight. It is the same exercise but with different intensity levels. Hang-boarding is a very effective exercise for developing stronger fingers and can safely be used by most people with the proper plan. People new to climbing should focus on developing climbing skills and an understanding of how to move on the wall before starting hang-boarding. Doing hangs in the first six months to a year after starting climbing will not be as important as learning the basics of climbing. This period will also be slowly introducing finger training just by climbing. If you pay attention to what your body can handle and how it reacts to the training, you can safely progress without risk of injury. Even people just starting to climb can safely use the hang-board if the workouts are planned to be low intensity and low repetition count.
The training area has options for many different exercises. The cross fit station is good for working on upper body and core training, while the system wall can be used for upper body training as well as climbing specific training.
Cross Fit Station
The cross fit station consists of hang-boards, pull up bars, gymnastics rings, and hanging grips. The hang-boards are mounted to a board and have pulleys below them used to subtract weight from the climber during hangs on difficult grips. There is more information posted in the training area that goes deeper into all aspects of hang-boarding such as planning workouts, proper form, and how to progress. Here are a few exercises that can be done on the pull up bars or hanging grips.
Type writers – Start in a full hang with both arms extended. Do a standard pull-up. Slowly engage just the left arm in a lock off. Extend the right arm to the side while staying locked off on the left arm. Hold this position if possible and then move the right arm back to a locked off position. From here you can either lower to the starting position or go directly into the same motion with the opposite arms.
Assisted one arm pull ups – Start by using one arm fully extended on bar and the other partially flexed on a ring. The goal is to do a pull up with the arm that's using the bar, and assist the pull up with the arm using the ring. The arm on the ring will initially be pulling, but shortly into the motion the wrist should turn and that arm can begin to push. Once at the top of the pull try to hold that position for a moment and then lower slowly for the next repetition.
Hanging Leg Raises (front and side) - Start in a hanging position with slightly bent arms.
Front – While keeping your arms slightly bent and upper body still, lift your legs up as high as possible. Legs should remain straight, avoiding bending at the knee. It is important that you engage your core for the exercise to work properly. It can be easy to think you're doing the motion correctly but if you're not tightening the core muscles it will not be very effective.
Side – Start the same as for front leg raises. While pulling the legs up the lower body should start twisting to one side. The legs should go as high and to the side as possible with good form. Once at the highest point try to hold the position for a moment before lowering back to the starting position. If these feel difficult you can do one side at a time and do the other side after a rest.
System Wall
The system wall can be used for most areas of climbing specific training. It is basically a small climbing wall that has been set to be symmetrical. This means that the holds mirror themselves from the middle of the wall outward. If there is a pinch at a 45-degree angle on the left, there will be an identical pinch at its mirrored angle on the right. This wall is filled with more holds than a standard climbing wall to give lots of options while climbing. The wall is unique because it can easily allow climbers to see imbalances in their body. For example, if a climber tried a move they created on the right side of the wall and could just barely do it, and then tried the mirrored version of the same move and could not do it they would know that the left side of their body is weaker on that move. Climbing movement is so unique that it can be beneficial to see exactly what parts of the body need to be worked on. Below are some workouts that can be done on the wall.
Limit Boulders
This exercise will train power and strength. Start by thinking of what type of holds you want to work on. It is smart to pick holds you are not typically good at climbing on. You will see more gains from training weaknesses rather than your strengths. The next step is to create a problem. Stick to creating 2 – 4 moves that will be above or just at maximum limit. During the workout, you should do 2 – 3 sets and attempt the problem on each side of the wall 2 - 3 times. Each attempt should require max effort. Create 3 or so of these problems to try each time you use the wall. You will see maximum results if you can do these workouts 2 times per week for 3 - 4 weeks.
Intervals
This exercise with train endurance and power/endurance. The idea is to do timed intervals of climbing on the wall. Whatever the time on the wall is will also be the time of the rest following climbing. While climbing, you are creating movement that is not preplanned. You do not want to fall so try to climb on grips appropriate for how fatigued you are. Avoid resting on single grips for long periods of time, you want to continuously climb for the whole duration of the interval. As you get more used to this workout try to make the movement harder and more sustained so that you can further improve. This exercise is very helpful for rope climbers because it helps with endurance and controlling the pump that builds while climbing for longer periods of time. These are not easy so starting with one and two minutes is smart until you can handle reaching up to four or five minute intervals. Here are two examples of how to plan your workout.
Beginner – 1M on, 1M off, 2M on, 2M off, 1M on – 3M rest and repeat for 2nd set
Advanced – 1M on, 1M off, 2M on, 2M off, 3M on, 3M off, 4M on, 4M off, 3M on, 3M off, 2M on, 2M off, 1M on – 3 M rest and repeat for 2nd set.
_____________________________________________________________
Big thanks to Keith Nadeau for all the tips on using the training area. For more helpful information on training for climbing, check out the Training section of our mobile app:
http://rockspotclimbing.gomobinow.mobi/app/mobile-app/7973301/36/

Don't forget we offer Adult, Women's, and Advanced technique classes each month, in addition to Private Technique classes. Adult and Women's Technique are hour and a half classes that will introduce you to new climbing techniques and training exercises to help you take your climbing to the next level. Designed for those who have completed the Adult Technique series or those with a strong climbing background, the Advanced Technique class offers a natural progression towards improved climbing abilities. The course is broken down into 3 sessions and includes review of the basics, dynamic & static climbing, and route reading.
For more info on our technique classes…
http://lincoln.rockspotclimbing.com/lincoln-course-registration/
http://peacedale.rockspotclimbing.com/peace-dale-course-registration/
http://boston.rockspotclimbing.com/boston-dedham-course-registration/

http://southboston.rockspotclimbing.com/south-boston-course-registration/
Be sure to check out the new training area next time you're in the gym and let us know what you think!
Read more http://rockspotclimbing.tumblr.com/post/153917627969
Read more http://feedproxy.google.com/~r/deadpoint/~3/vy648PIq5t8/top-notch
Tiffany managing rope on a recent trip to Joshua Tree. #optoutside #outdoorwomen #sheexplores #joshuatree #climb (at Joshua Tree National Park)
Read more http://katcarneyphoto.tumblr.com/post/153875200744
Read more http://feedproxy.google.com/~r/deadpoint/~3/6VxIlL3pjmA/three-fron-font
Read more http://feedproxy.google.com/~r/deadpoint/~3/3dLHcyjov6M/lappnor-project-trailer-nalle-hukkataival-hardest-boulder-problem-world
Read more http://feedproxy.google.com/~r/deadpoint/~3/2FLw0mU1u_g/font-diary-november-2016
The crew scoping lines during the cinematic Joshua Tree golden hour. Returning to the same park year after year never seems to get old when endless climbs await you. Heading out for my first j tree trip of the season today! I'm teaming up with @rei to show you some of my favorite SoCal spots this year. #optoutside #sponsored #joshuatree #climbers (at Joshua Tree National Park)
Read more http://katcarneyphoto.tumblr.com/post/153521208399
The best part about having a home on wheels is the view out the back window. No need for art on the walls, you get a new piece of art every day depending on where you park! Here we are parked at some remote beach in Baja. What does the view look like from where you chose to #OptOutside today! #Baja #surf #beachlife
Read more http://katcarneyphoto.tumblr.com/post/153658270454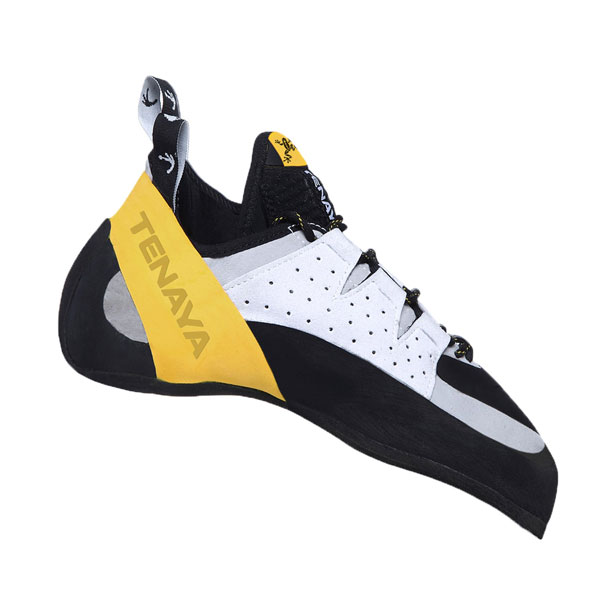 The Tarifa is a high performance shoe that excels on technical terrain, while offering the usual comfort we've come to expect from Tenaya.
Like all Tenaya shoes, they were fairly comfortable out of the box, though at first the fit felt funky, like my toes were being squashed together in the narrow toebox, but not in a way that was providing any power, just discomfort. I didn't love how they climbed at first, as the point of the shoe is more centered between the big toe and one next to it, rather than directly under the big toe as you'll find in many shoes. (These would probably be a good choice for folks with Morton's toe.) This took some getting used to, as the sweet spot is noticeably different than with other models. Over the course of several sessions, however, they broke in nicely and really excelled on a week-long trip to the pocketed dolomite of Lander, Wyoming.
I would put these shoes in the same league as the Scarpa Boostic and Miura VS, in that they are on the stiffer side of performance shoes. I found they were best on vertical to just past vert climbs with small footholds. The toe is very precise, once I got used to it, with enough sensitivity to know I was standing on the best part of the hold, but supportive enough my feet didn't tire quickly standing on small nubbins.
On the above-mentioned trip to Lander, I was surprised by how technical the footwork is there. When I wasn't standing on a pocket, usually it was little bumps and divots in the dolomite. The Tarifa's were more than up to the task, confidently allowing my passage up the walls of pocketed stone.
The XSGrip rubber is a favorite of mine, though it definitely wears out quickly. The price to pay for stickiness, I suppose, and you can always resole them with something firmer when they become your second tier shoes.
If technical face climbing is your thing, these shoes are absolutely worth checking out.
Fit: They run pretty big, so you'll want to downsize, even if that's not something you usually do. I wear a 12 street shoe and got these in a 10, which is very comfortable.
Retail: $165
Sole: 3.5mm Vibram XS Grip
Upper: Microfiber
Ideal use: Technical face climbing
Sizes: 2-14
More info and tcch specs available on the Trango website.
Disclaimer: Wait! Before you go handing over your credit card number, ask yourself, do you really need to buy more new stuff? If so, this product is worth a look. In the spirit of full disclosure, it was provided to SplitterChoss.com for the purpose of reviewing. Don't worry, though, our integrity can't be bought!
Read more http://www.splitterchoss.com/2016/11/15/tenaya-tarifa-shoe-review/
Sunrise in Baja. These are the moments I will remember years from now- warm, calm mornings where the hiding sun throws intense colors onto the world, it's canvas. #outdoorwomen #sheexplores #sunrise #baja (at Baja California Peninsula)
Read more http://katcarneyphoto.tumblr.com/post/153917216494