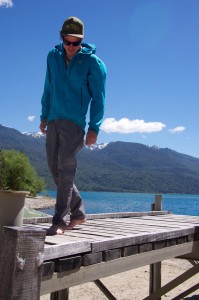 Along with Squamish Access Society president Jeremy Smith, Marc-Andre Leclerc is headlining the locals' evening at the Squamish Mountain Festival. Squamishclimbing.com recently caught up with Marc to get a preview of what he might be talking about at the festival and what else the young Arc'teryx athlete has been getting up to in the last few months.
The short answer on the second topic is "plenty". During the winter, Marc made his first trip to Patagonia, combining two back-to-back sessions with different sets of partners. With Jason Kruk, he wrestled classic terrible Patagonia weather and objectives around the Torre massif. Then, with Paul McSorley, Will Stanhope and Matt Van Biene he ventured out to an unclimbed wall in the little-known Rio Turbio valley, where the approach seems to have been as sketchy as the climbing. After that, a US road trip. In Yosemite Marc tried for what he calls the "half-pipe": soloing the big faces on Half Dome and Mount Watkins in a single day. Now he is home in BC for the summer season.
Currently Marc is best known in Squamish for freeing the A4 aid line, Last Temptation of St Anthony, on the North Walls. Though he had sent most of the route several years ago, including the physical crux, an overhanging 5.13 flake, the most serious of the original aid pitches held out until October last year. Chris Geisler had climbed this off-vertical face pitch almost entirely on skyhooks with just three bolts and Marc wanted to respect that lead by freeing the pitch without any additional drilling. Though ex-Squamish-resident Sonnie Trotter estimated 5.13 after a top rope ascent, Marc compares the difficulty to some of Murrin Park's 5.12+ crimpathons, though with vastly more risk: "like soloing Vorpal Sword or leading Mata Hari with one bolt". Falls up to a hundred feet are possible from the pitch.
Though obviously capable of incredible focus in action, Marc comes over as extremely laid-back away from the rock. He says he dislikes being too structured about training or projecting routes, and prefers spontaneity and keeping climbing fun at all times. The big lead on Last Temptation was wholly unplanned. He had been up on the route alone working moves and was about to strip his fixed lines from the route before the winter, when his girlfriend jumared up from below to offer a belay if needed. Though conditions were not ideal, with a very strong side-wind, some instinct told him that this was the moment to try the lead … no doubt Marc will finish the story in his presentation at the festival. This year he is working at freeing the Raven, another old aid route on the North Walls. Like Last Temptation it involves significant face climbing rather than being a standard Squamish crack and corner line, but he doesn't think there are any "R" or "X" leads to negotiate.
Marc's other multi-pitch addition to the Chief last year was Labyrinth on the Tantalus Wall. This evolved after a rope-solo of the aid route Wrist Twister, which the new route criss-crosses on various dike features. Marc and partner Luke Neufeld tackled the route ground-up, cleaning and bolting on lead. Both took long falls after blowing hooks whilst drilling.
This spring in Indian Creek he attempted the infamous 5.13 R Air Sweden ground-up, taking falls up to fifty foot. He ultimately failed to send, but feels his attempts were more rewarding than if he had top-roped the route as most people do (the anchors are easy to access via a 5.11 crack pitch) then made a lead that would have had no uncertainty.
It might seem like Marc is making ethical statements with some of these ascents. But hearing him talk about them gives no impression at all that he wants to prescribe how other people climb. For him climbing is very personal, and playing with strict rules is his way of maximising his own experience. But come judge that for yourself: Marc's presentation is on the 16th.
Read more http://squamishclimbing.com/2014/07/03/2014-festival-preview-marc-andre-leclerc/
Collection of boulders fairly near to the summit of Buzzards Roost. Short, easy, sandstone problems, some rock is crumbly.
Submitted By: Lukas Wiborg
Location: CA : San Francisco Bay Area : Big Basin State Park
Read more https://www.mountainproject.com/v/buzzard-boulders/111976820
Most people wouldn't head to Berlin for the climbing, but rather the culture and historical significance. And those reasons are still why you should visit this area. However, if you still need a fix, there are some climbing opportunities in the region.

The climbing is on bunkers, bridges, ruins, climbing towers and boulders. There's also a solitary cliff offering natural rock climbing in the south of Brandenburg.
Submitted By: Shawn Heath
Location: International : Europe : Germany
Read more https://www.mountainproject.com/v/berlin--brandenburg/111980465
The bouldering areas in, and around, Katahdin/Baxter State Park are located under this AREA.
Submitted By: Robert Hall
Location: ME : Katahdin
Read more https://www.mountainproject.com/v/bouldering-areas-in--around-katahdin/111976123
This ger camp is in a small half-moon valley in the southeastern side of Terlej National Park. There are at least 4 decent routes here, I was only there for 4 days of climbing, so each day my buddy and I tried to put up a new route.

The rock can be very loose and breaks off easily so we had to spend a ton of time cleaning, so only one pitch of one route was completed to the point where it was done as a clean trad lead. The others listed we attempted via top rope, with some cleaning, but never done start to finish as a trad climb.

We were working with some beginning climbers so we focused on easy routes. There are absolutely some 5.10c++ lines in the area, but we never attempted them.

Climate/Weather: Very open, no shade on the rock. Can get very windy and suffer from extreme cold in the winter.

As stated before, the rock is flakey. The freeze/thaw is extreme in Mongolia, annual temps from -60 to 90, and daily variations of up to 50-60 degrees. With no cloud cover or shade, the direct sun can cause freeze thaw even when the temps never get above 0. In may, it was not uncommon to go from -10 to 75 to 10 to 60 to -10 all within a 24 hour period. We often were able to pull hunks of rock off the mountain the size of basketballs with moderate hand strength. That being said, if you look around you can find places to put pro that are safe, but they are possible few and far between. Best bet is to bring lots of big gear, Camalot #3 and bigger, and stick to the large crack systems.


To the west of the camp is a large monolith that has some bolts that have ripped out and are hanging by chains. These were on a very slabby looking route we did not try and climb. Just north of this monolith are some short chimney routes that can be top roped. To the east of the camp is a large ridge line with one established trad route with potential for more. To the north of the camp is another ridge that I didn't explore much.
Submitted By: Nat D
Location: International : Asia : Mongolia : Terelj
Read more https://www.mountainproject.com/v/buuveit-camp-area/111971193
Something remarkable happened in the Llanberis Pass last week. Eighty women climbers from 24 different countries – Iceland to India, Bulgaria to Belgium, Japan and New Zealand – came to take part in the Pinnacle Club/ BMC Women's International Climbing Meet.
Abi Chard reports on the event, which saw both trad newbies and experienced climbers enjoying some Welsh rock in the sunshine.
Read more http://www.ukclimbing.com/news/item.php?id=70538
Hi Steph, thanks for the way you are. I really like you. You are so inspirational for me. I am climber and vegan like you. I have one question. I am going climb in Yosemite in September. Can you recomend me please some climbing shoes for this granite crack climbing? Of course, vegan shoes :). Thanks and have a nice. Michal
Hi Michal,
If you like a flat shoe best on granite, you should check out the Evolv Kronos.


If you like a more downturned shoe, the new Shaman is a good option for you.
Sizing is the trickiest part: you need precision for that techy granite, but if you're climbing long routes you might want to go up a half size than your usual sport climbing shoe (if you wear them tight normally), because you'll be on your feet for a long time. This is why I prefer velcro shoes for long routes–I like to pop the heels off at belays and let my feet take a break. I'd probably bring a pair of tighter, more precision shoes and a pair of more comfortable shoes since you'll probably climb some long routes and also go bouldering and maybe cragging.
Have a great time!
Steph
Read more http://stephdavis.co/blog/yosemite-climbing-shoes/
Wildflowers are blooming along Lime Creek in White River National Forest.
Read more http://whimsicalw.tumblr.com/post/146921914472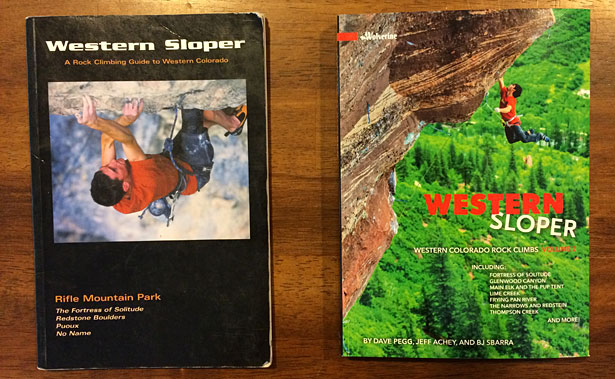 As many locals know, the new guidebook is finally here! I dug out the original Western Sloper for comparison, which Dave Pegg wrote back in 2002. It covered Rifle, The Fortress, No Name, the Puoux and the Redstone boulders, and was 72 pages. Fourteen years later, what was one, small book is now two volumes, and Western Sloper, which covers everything that isn't Rifle, has over 1200 routes, and is 368 pages.
When I first moved here, it seemed bizarre there wasn't more climbing close by. People would drive from Carbondale to Rifle for after-work sessions, which seemed crazy. Don't we live in the Rocky Mountains? Surely there are cliffs closer by. And indeed there were. With over 30 different areas, the local climbing scene has exploded. And while some of it will only appeal to locals, many of the areas are worthy weekend destinations for those who don't live in the Roaring Fork Valley.
Jeff Achey and I started working on this with Dave Pegg back in 2012. While Dave loved Rifle, he was also a driving force in opening up climbing at many of the lesser-known local spots, like Main Elk, the Pup Tent, the Fortress, Hogwarts and the Distillery, to name a few. As the man behind Wolverine Publishing, Dave had a lot of book projects going on during that time, so Western Sloper slowly but surely moved towards completion. And then, in the fall of 2014, Dave took his own life. Two months later I got a call from Jeff, who had taken up the reigns at Wolverine: let's finish this book, as a tribute to Dave and his love of the local choss.
Even though I was very familiar with the local areas, there had been so many new climbs established that there was actually a lot of "research" (which is just climbing where you take lots of notes) to be done. For me, what really makes this book stand out is how much new climbing is documented for the first time. Probably at least 60% of it has never been in another guidebook, and is mostly not on Mountain Project. Jeff and I hope this will open people's eyes to the vast amount of climbing in this corner of the Western Slope, as what's in the book is truly only the tip of the iceberg.
For locals, hopefully you now have better beta for your favorite spots, and some new ones to check out. And for those who are thinking about coming to visit, you should! Things are a bit more western out here, but if you don't mind walking up hill, the occasional dirty (and maybe loose) holds, and grades that have had very little consensus, then pack your bags and come on out!
A huge thanks to everyone who helped make this possible, and happy exploring!
Western Sloper is available for purchase at local shops, and online at wolverinepublishing.com.
Read more http://www.splitterchoss.com/2016/05/11/youve-come-a-long-way-baby/
A sample of some of Great Barrington's boulders. The winters are usually bitter cold and snowy but so far the snow has held off for a while this year. —Mike Bowsher
Read more http://www.climberism.com/winter-bouldering-refresher/