Well, Saturday night's SCS Nationals Final at Central Rock Gym in Watertown, MA ended up being pretty exciting.
For the women it was Delaney Miller winning her 3rd consecutive National Championship ahead of Margo Hayes and Claire Buhrfeind.
For the men it was Kai Lightner coming through big in his first adult rope nationals, besting the surprising Jesse Grupper and Matty Hong.
Men's Final Results
Women's Final Results

Kai Lightner
Jesse Grupper
Matty Hong
Carlo Traversi
Brendan Mitchell
Elan Jonas Mcrae
Mike Foley
Solomon Barth
Garrett Gregor
Austin Geiman
Rob D'Anastasio

Delaney Miller
Margo Hayes
Claire Buhrfeind
Alex Puccio
Sidney Trinidad
Grace McKeehan
Kyra Condie
Katherine Lamb
Kayla Lieuw
Melina Costanza
Sasha DiGiulian
Marisa Romero
Thanks again to everyone who tuned in to our live broadcasts throughout the weekend. We had a lot of fun bringing you all the action, and I can't wait to do it again next year!
Related
My climbing evening was well and truly ruined and I felt like I was back at school being told off by a teacher for wearing the wrong coloured socks. And I was so excited about going back to train at my favourite climbing gym in London, The Reach… "You can't do that here, it's dangerous …
Continue reading No more lead fall practice at the Reach?
Kai Webler Productions and his crew are at it again in his latest release of The Northeast Part 3.  Crash pad sledding, blood dripping fingertips, and man's best friend playing with a stick accentuate this climbing video packed full of hard sends.  The crew ticked off some of New England's finest and hardest boulder problems, including the send of Roses and Blue Jays (v13) at Great Barrington.
Hi Steph,
I've always been a big fan of yours, there is nothing more inspiring than strong female climbers showing us that the seemingly impossible is possible! Through curiosity on improving my health and becoming an even better athlete I've recently decided to follow a whole foods plant based diet. I've begun reading a lot of materials: Whole, The China Study, Thrive, and am really excited about it.
All that being said, this research has peaked my interest on a few other topics.
1) I was curious if you have an opinion on birth control. One of the things I've come to like about a whole foods plant based lifestyle is the purity of interactions your body will have with those foods. And I'm hoping that it will bring hormonal balance to my body naturally. Then I remembered i take birth control, which also interferes with hormonal balance in the body. I don't really want to rely on condoms, and I'm definitely not ready to leave having a child up to chance at this point. So I was wondering what your opinion was. I know you aren't a medical professional, but since you've been vegan much longer than I have, maybe you've come about some discussion on that topic.
2) I have a small Italian greyhound. He has to take medication for what we think are genetic seizures. These medications aren't good for the liver and he has to be checked yearly. I heard rumor from an Italian greyhound foundation that some of their dogs with seizures stopped having them when switched to a "raw foods" diet… But I believe these diets still have meat in them. I'm not looking for an answer about my dogs seizures but mostly was curious about what kind of food you feed your dog. Does your dog eat normal dog food? Does he eat vegan? Can dogs even eat vegan or do they have to eat meat? I'd be interesting in trying a new food for him because maybe, like in humans, food can help him with his problems.
Thanks for being such an inspiration!
-Allison
Hi Allison,
Thanks for getting in touch, and congrats on making thoughtful decisions about your lifestyle choices–your questions are great, because they are two things I've had to put a lot of thought into as well. Like you, I want to nourish and protect my body as much as possible, and I realize that everything I put into my body has an effect on it. For the same reason, I have never wanted to use birth control options that alter my hormones. I have a
Paragard IUD
, and have had it for 10 years now. When I got it, I was strongly encouraged to get the Mirena, which is an IUD that contains a progestin hormone called levonorgestrel. I actually had to argue strongly that I wanted the copper IUD, which does not have any hormones in it, and finally was able to get that one. I was told that getting the non-hormone IUD might cause heavy bleeding, while the Mirena would actually reduce it. I was also told that IUDs aren't recommended for people who haven't had a child, because they can be harder to get in, but I still was able to get one. I did have slightly heavier periods for a few months, and then it was back to normal. It took some determination to get it, and some stubbornness to insist on the copper one, and I'll be honest, having it put in hurt quite a bit! But dealing with all that once every 10 years is pretty acceptable, compared to all the other birth control options out there, in my opinion. I think the copper IUD is absolutely the way to go.
I'm sorry to hear about your little greyhound! Foodwise, I don't think it's healthy for dogs to be fully vegan–they're different from humans in their nutritional needs. Aside from health, my biggest goal in being vegan is to get my dollars out of factory farming, because I think it's terrible and I want it to end. So for Cajun, I buy
Open Farm Catch of the Day Whitefish and Green Lentil
food because they use sustainably caught ocean fish. They also collect the food bags for recycling, if you bring the empty bag back to the store you bought it from. She loves the food and she's very healthy–she's never eaten anything else since I've had her (she seemed to have mostly eaten cow manure when she was an abandoned pup).
I've looked into dog seizures too because my good dog friend Slack is having them. Two things that keep coming up are coconut oil and hemp extract, based on people trying it with their dogs and seeing improvements. Cajun doesn't get seizures, but she can be really anxious. She's been taking
CW hemp extract
every day for the last month and it seems to be helping her feel more relaxed. So if you're looking for some other options for your pup, I would probably try the coconut oil and hemp extract, to see if it helps with his seizures. I hope he gets better!!
Steph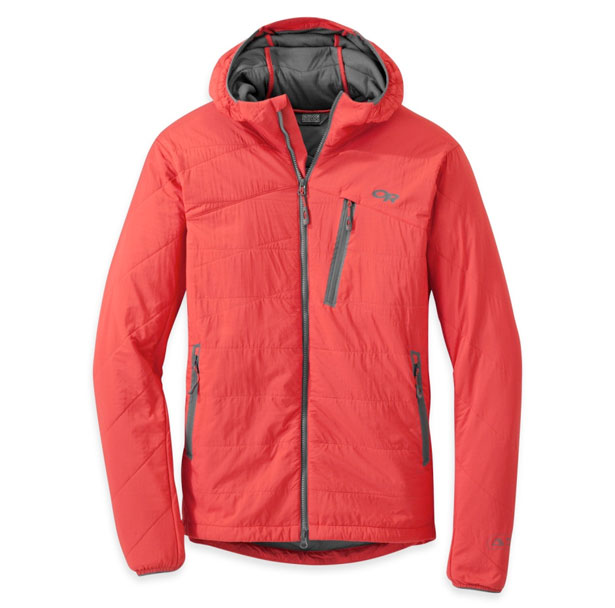 I run hot. This is good for staying alive in winter, not so good for being comfortable on sunny rock climbs. It also means I typically don't wear much when moving uphill, usually a thin layer is adequate while skinning. So it was with some skepticism that I decided to try out the Outdoor Research Uberlayer Hooded Jacket, a breathable insulation piece designed to be put on and stay on for a full day of aerobic activity in winter conditions.
I had tried out the
OR Superlayer
last year and two things I didn't like about that jacket were improved in the Uberlayer: 1) it has a hood (duh!), and 2) it's lighter weight, which means it offers a better balance between breathability and warmth. The Polartec Alpha Active insulation does a good job dumping heat, and I was indeed impressed with how well the technology worked. On cold days, I could leave it on while skinning at a moderate pace, and then there was no need to put on a jacket for the descent.
It's amazing what a small thing that is, but how much of an impact it had. Out on ski missions, when I got to the top, it was one less thing I needed to do before heading down. The time difference itself might not have been all that tangible, but it felt like I was cheating going straight from touring to ski mode without putting something on or taking it off.
I've mostly skied in this jacket, but I've also taken it up a few ice climbs as well. It has great range of motion, and the sleeves stayed put thanks to the elastic cuffs. It wasn't warm enough that I didn't need to throw on a belay parka while cragging, but doing a longer climb where you were moving fast would probably be a different story. It has two interior stash pockets, crucial for warming up gloves, skins, rock shoes, anything-that-needs-heating-up. The hood doesn't fit over a ski helmet, though it does fit over a climbing helmet. And I'm really glad they put a two-way zipper on this, making it easier to use a belay device, check your harness, etc.
My only complaint at this point is that after a dozen or so uses, it started to get pretty stinky. I imagine that's because it's transporting a lot more moisture through the fabric than other jackets, but it took me by surprise. The first couple weeks I had it, I also used it as a going-out-on-the-town jacket, but it quickly became a little too pungent for social use. A quick run through the washing machine took care of the problem, but I had to wash it twice this winter, which isn't something I typically have to do with other jackets.
Overall I'm impressed with this piece and would recommend it to anyone who is curious about breathable insulation and hasn't yet jumped on the bandwagon. It's a nice weight for most conditions in cold and dry climates, and versatile enough for a wide range of activities.
Fit: I'm generally in between a medium and large. I'm a medium build in the chest, but large in the arms. I got this in a large, and it doesn't feel overly bulky, with a good trim cut.
Retail: $299
Fabric: Nylon Stretch Woven Shell / Polartec Alpha Insulation
Weight: 20.5 oz (L)
Ideal use: Backcountry skiing, ice climbing, alpinism
Disclaimer: Wait! Before you go handing over your credit card number, ask yourself, do you really need to buy more new stuff? If so, this product is worth a look. In the spirit of full disclosure, it was provided to SplitterChoss.com for the purpose of reviewing. Don't worry, though, our integrity can't be bought!